Alaskan 50 Year Heritage Commemorative Set
Deed to 1 Square Foot of Alaska Land
Home of the Iditarod Trail and the Iron Dog
Historic 49 Star U.S. Silk Flags
---
It's been almost 50 years since Alaska joined the Union. They were made a state in 1959. This special Heritage Commemorative collectors collection is a tribute to this historic event. It's components are all highly sought after collectors items of the Alaskan Heritage. The Bi-Centennial events of celebration will be held in only a few years. This special collection of items from this era contains 5 significant Genuine Collectable Items.
Land Deed
The set features a genuine bona-fide Land Deed to one square foot of Alaskan moose pasture subdivided in 1966 and filed in the McCarthy Recording District in the 3rd Judicial District of the State of Alaska. Home of the Iditarod Trail and the Iron Dog! This is an authentic legitimate homestead land deed. Each deed is individually numbered with the lot and block number, and can be legally recorded in your name. The land actually exists and belongs to the deed holder! This Genuine Alaska Homestead Deed grants ownership of one square foot of Alaska Land to the recipient. Click Here for frequently asked questions about this deed.
Click on this Photo for a Close Up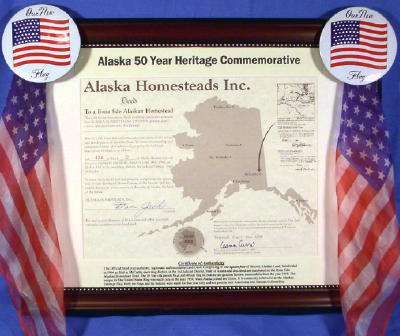 See Photos Below
The 50 Year Heritage Commemorative Set also includes two historic 49 Star Silk Flags and two 49 Star flag tin lapel buttons. These flags and buttons are genuine, unsold 1950's merchandise imported from Japan in the late 1950's. The 49 star flag is one of the rarest of the U.S. Flags and commonly referred to as the Alaskan Heritage Flag. It was made and flown only in the year 1959.
The official US flag for the year is the flag flown on July 4th Independence Day. Alaska joined the Union in early 1959. Hawaii joined in August of the same year. That meant for one year only, the U.S. Flag had 49 stars. The flag makers and the people didn't want a flag that everyone knew was going to be used for one year and then become obsolete. Consequently, not many flag companies made them and not many people bought them. They are rare! This US flag is now referred to by collectors and history buffs as the Alaskan Heritage Flag.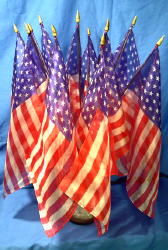 Click Here for more info on 49 Star Flags
See Photos Below
The pair of 1959, vintage flags included with this set are 100% virgin dyed quality Japan silk with bound hems. They are the customary parade size of 12 by 8 inches and have been sealed in boxes in an old warehouse for decades. Genuine 1950's production. They have not seen daylight for almost 50 years! No fading here! The colors are bright and vivid creating exceptional contrast, displaying the extraordinary attributes of Virgin Dyed Japanese Silk. They exude elegance! Seldom do you see a 49 star virgin silk flag with such brightly displayed colors. These flags are sought out by collectors for their Rarity and Beauty!
The 1950's era tin flag buttons also proudly display the 49 star flag waving in the wind with the commentary "Our New Flag" prominently displayed. This new flag, is now referred to by collectors and history buffs as the Alaskan Heritage Flag. Hardly any buttons were made for their limited marketing period of only the one year, 1959. These are genuine 1950's production, left over unsold merchandise still in their dime store bags with illustrated top tags, found in the back of an old dime store distributors warehouse. They feature a heavy duty safety pin clasp on the reverse side along with the word JAPAN stamped into the back. They are 3 ½ inches in diameter. These buttons are also sought out by collectors.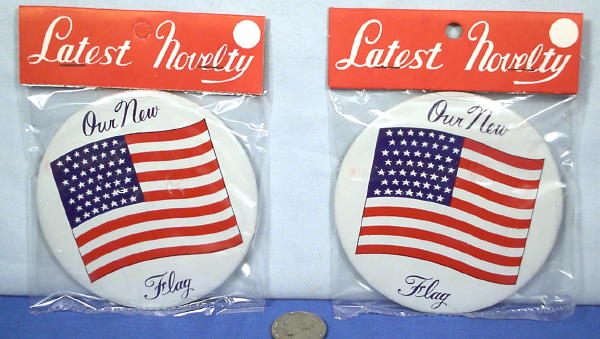 See Photo Below
The 49 star flags and buttons are highly sought after collectables for Americana collectors and Alaskan buffs. Also included in this Commemorative set is a Title Strip and Certificate of Authenticity that explains the historic significance of the 49 star US Alaskan Heritage Flag. They fit above and below the Homestead Land Deed in a standard matted 11 by 14 inch frame as shown in the photos. Not included is the frame. It would cost me more to ship you a 2 Lb. frame than it would cost for you to buy one at Wal-Mart, and you can choose a style and matt color that matches your decor application. Everything else in the photo below is included. It takes only a few minutes to frame the land deed, title strip and Certificate of Authenticity and attach the two flags and buttons as shown. Or be creative and display this historically significant heritage collection in your own way.
---
There are a limited number of these complete Alaskan Heritage Sets available. With the 50th anniversary of Alaska's Statehood coming soon, they are destined to be a sell out. You get all 5 items! You get the Bona-fide Homestead Alaskan Land Deed, Two 1959 vintage silk, 49 star flags, Two 1959 era tin, 49 star flag buttons still in the dime store packages, The Title strip and the Certificate of Authenticity. Frame it yourself and save $$$. We pack it all securely and mail it to you First Class U.S. Postal.