Advertising Post Card
Pioneer Seed Corn
With Tractor Harvesting ~ 1958
---
This fantastic post card was sent to see that you got the new Pioneer catalog, and the salesman would be calling soon! The phenomenal graphics show a vintage tractor harvesting a field of corn, two rows at a time and a trailer full of corn after 1 pass! There is a farmhouse and barn in the background.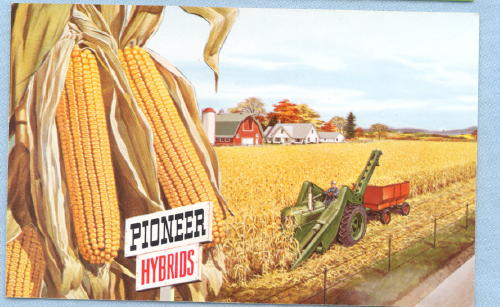 See Photo of Reverse Side at Bottom of this Page
On the back it says, Hope you've had time to look through the new Pioneer Catalog and that you've found lots of uses for the plastic bag that came with it, and has the dealers name, W. J. Lammers, Dyersville, Iowa. It is a standard 5 ½ inches by 3 ½ inches. This card is unused and in Perfect Condition.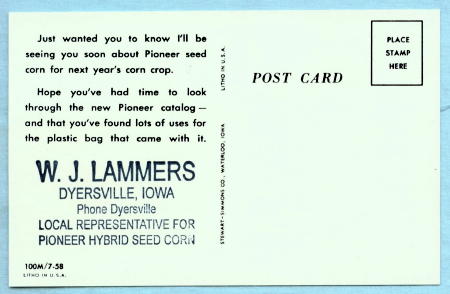 | | |
| --- | --- |
| Esnarf Item . #1563-B | Price . . $7.85 |
To see all 3 different pioneer cards we have, Click Here.