Advertising Post Cards
1958 ~ Pioneer Seed Corn
Stork Delivering a Sack of Seed
Harvesting with a 2 Row Tractor
Bird Snitching from a Sack of Corn Seed
---
Two of these fantastic post cards were sent to tell you it's time to pick up your Pioneer Seed Corn. One is telling you the Pioneer salesman will be calling soon. They are standard 5 ½ inches by 3 ½ inches.
The phenomenal graphics show a stork carrying a sack of baby seed corn flying above a barn with a rising, smiling sun. The second card features a vintage tractor harvesting a field of corn, two rows at a time and a trailer full of corn after 1 pass! There is a farmhouse and barn in the background.
The third card features a bird overlooking a sack of Pioneer corn seed. There are individual kernels of corn seed, with smiling faces, jumping out of the sack and the lead kernel is saying "We're Rarin' to GROW." Phenomenal Graphics!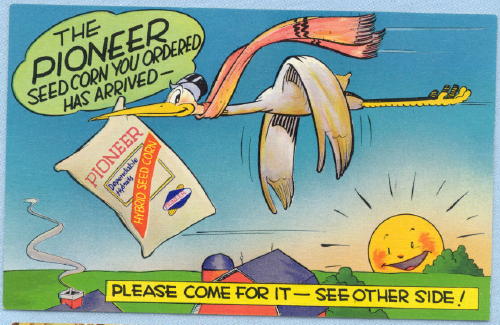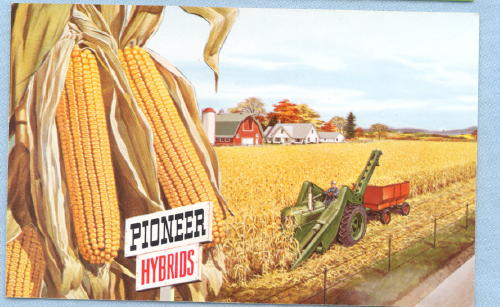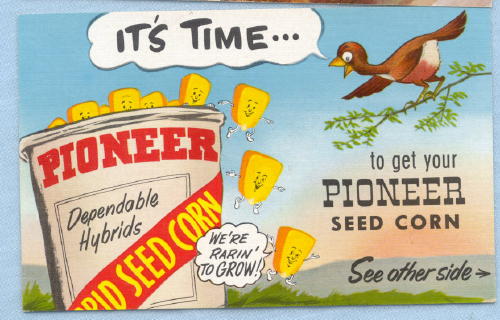 Here is a shot of the back of one of them.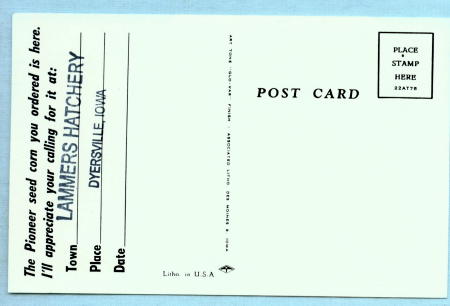 These cards are unsent and in Perfect Condition.