Set of 7 Pin-up Girl 1940's Matchbooks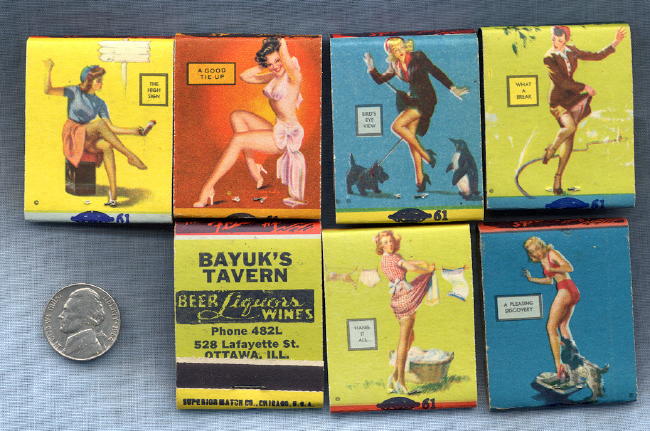 These famous pin-ups were done by the great pin-up artists of the era. Includes Six Different classic pin-ups on 1940's Vintage Tavern advertising matches! Includes; What a Break, The High Sign, A Pleasing Discovery, A Good Tie-up, Hang It All and 2 packs of Bird's Eye View. (So framers can show both sides!)! All on the back of Superior Match Co., single staple, front striker 1940's matchbooks! Advertisement on the front for Bayuk's Tavern, Ottawa, ILL. Phone # 482L. The inside is also printed in blue with the words, Don't forget, U R always welcome, with the graphics of a welcoming hand! Early 40's at it's finest. All Original, Unused, Perfect Condition! You get a complete set of 7 vintage matchbooks as shown, all for one money! The extra Birds Eye View is included and shown cover up in the photo so you can see the front which is identical on all, except for the colors. Rare opportunity to get a matched set of pin-up matches.
| | |
| --- | --- |
| Esnarf # 892 | Set Of 7 . . . . . $23.85 |
We pack it securely and mail it to you First Class U.S. Postal all for $2.85!
See other Pin-Up Items We Have