Set of Four ~ 11 inch by 14 inch
Individual Football Star Drawing Prints ~ 1981
Walter Payton, Otis Anderson, Dave Logan, Archie Griffin
---
Issued by NFL and Shell Oil Company. This set of four framable prints were made from pencil drawings by Tanenbaum, Nick Galloway, and an artist who's signature I can't make out. They are beautiful Prints showing these star players in action. Here is a close up of the one of Payton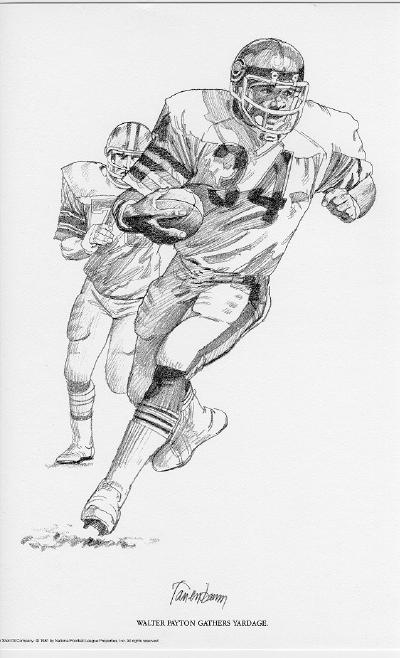 See Photo Below
At the bottom it says, Walter Payton Gathers Yardage Each is 11 inches by 14 inches on quality paper.
To see close up scans of all of them, Click Here.
These are original NFL issue! At the bottom in small print, each says, Prepared exclusively for Shell Oil Company. © 1981 by the National Football League Properties, Inc. This was from a Shell and NFL promotional over 20 years ago. Shows the players in uniformed action on the field. This set of four is in Perfect Condition. All four go for one money! We pack them securely and mail it to you First Class U.S. Postal.