Chickens By Mail ~ Baby Chick Supplier
Hy-Line Baby Chicks
Old Fashioned Waterslide Decal ~ 11 Inches
---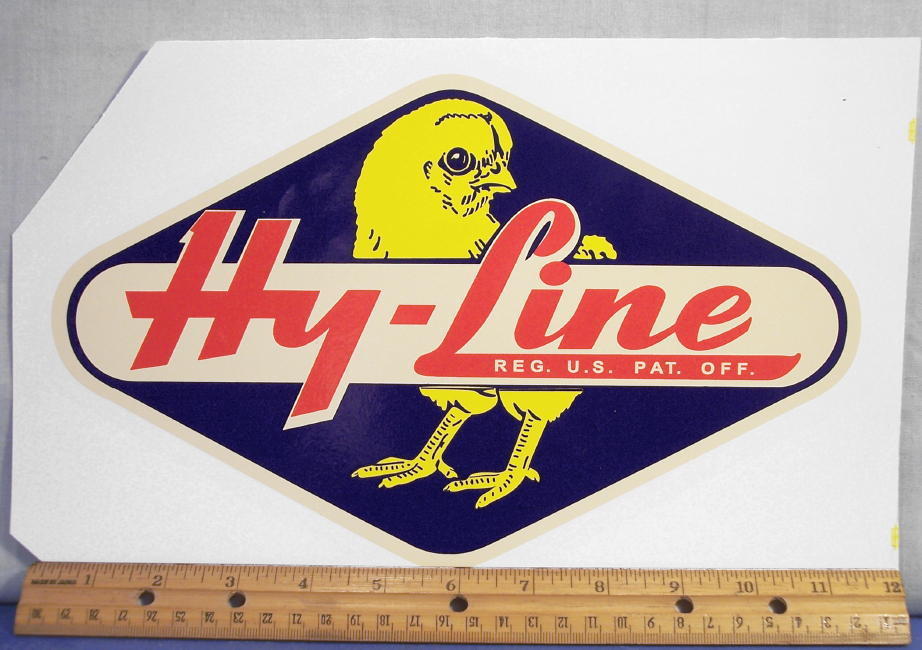 This old fashioned Waterslide decal mounts from the front or the back. Hy-Line was a large Iowa Chicken Farmer that sold chicks in boxes through the mail! Phenomenal Graphics of a small yellow chick, against a navy blue background. Across the front it says, "Hy-Line". It is a squared off oval shape, 11 inches wide and 7 inches tall. Highly detailed, It is the cutest graphic of a small Chick I ever saw on an advertising item.
They would send these out with the box of chicks so the farm that was going to raise chickens could display it near the chicken coop inside a window or outside on the side of the coop because it mounts either way. Old fashioned Waterslide decal, not a sticker. Looks great framed or applied onto something. It was stored in a dry, constant temperature area, so there are No cracks, No tears or scratches, not old, the water soluble glue is guaranteed to work well on any flat, nonporous surface.
We place it on a stiff backer, hermetically seal it in plastic and send it in a Manila envelope by First Class Mail. We combine shipments to save you $$$.