1950's Japan Import ~ Germanium
Crystal Rocket Radio
No Battery Required ~ NIB
---
Crystal Radio Receiver shaped like a rocket. 1950's Japan Import. New in Box. Warehouse find! We have a half carton full of them. Unsold, unused, merchandise from over a half Century Ago!
---
This crystal radio was designed to pick up AM stations without batteries! It needs no power source. A Germanium Diode operates off Radio-Wave power, that it pulls it out of the air that the AM stations broadcast. It stands about 6 inches tall. Comes complete with ground wire & clip and earplug. To change the station you rotate the vertical dial seen on the front side, and a yellow antenna stick moves up and down with the dial. It is numbered from 1 to 6 to go through the AM band. Will not work in a metal building or If you live too far from an AM Station.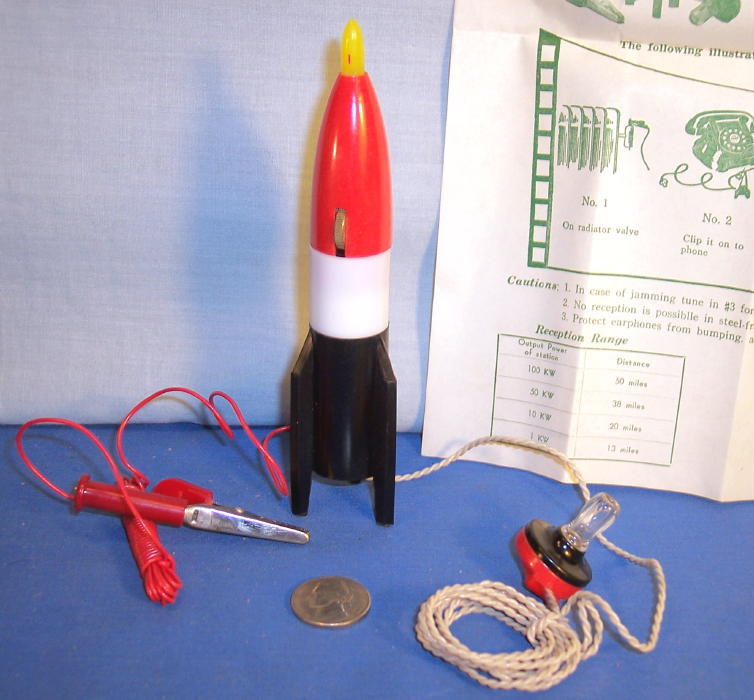 The antenna that the radio uses is also one of the wires that goes to the earplug. Small antenna, limited reception. If you live in a metal building, or some distance from an AM station, There is a place to connect an external antenna shown below.
The plastic body consists of 3 round plastic rings. The glue is old, and it will come open at one or more of the rings. If your radio comes open, you can see where this small earplug wire starts in the radio at the tapered end of the Germanium diode. There is a tapered end at one end of the glass Germanium diode body of that the earplug is attached to. Photo of the workings below.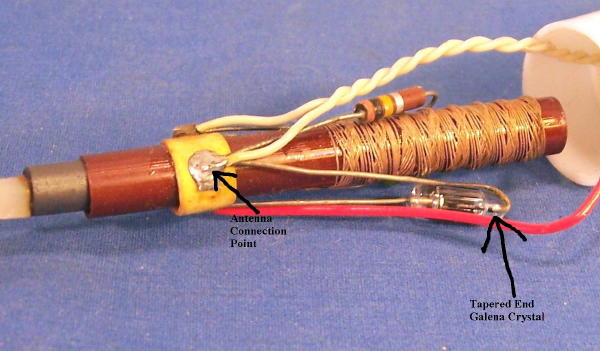 There is an External Antenna connection point. Early 1920's crystal radios (and this one too) work best with up to a 100 foot antenna wire attached to that point, however, if you have the earplug in, and the ground wire attached to a good ground, you can merely touch this point with your finger and hear static as your body acts as the antenna. That means it is working even if you can't get a station close or strong enough to listen to. I soldiered a small, 3 foot long clip wire to that point on my Rocket Radio, so I can clip onto a long wire suspended in the air between 2 trees, not near or touching any metal, and receive several stations about 15 miles away. If you add an external antenna wire clip, a drop of household cement will glue the Rocket's plastic body rings back together and will hold it together for another half century.
The longer and higher (altitude) the antenna is, the more power it can pull out of the air, and you get stronger signals and more stations. The earplug wire that they use for the antenna is only about 5 feet long, hence the lower power reception. When you move the top stick up and down, it moves a ferrite (iron) rod into the center of a coil of hundreds of feet of very fine wire wrapped on a small, pencil sized tube. This changes the coils characteristics and "tunes" it to a particular frequency, allowing you to hear just one station at a time.
Below is a shot of it with the antenna stick extended all the way up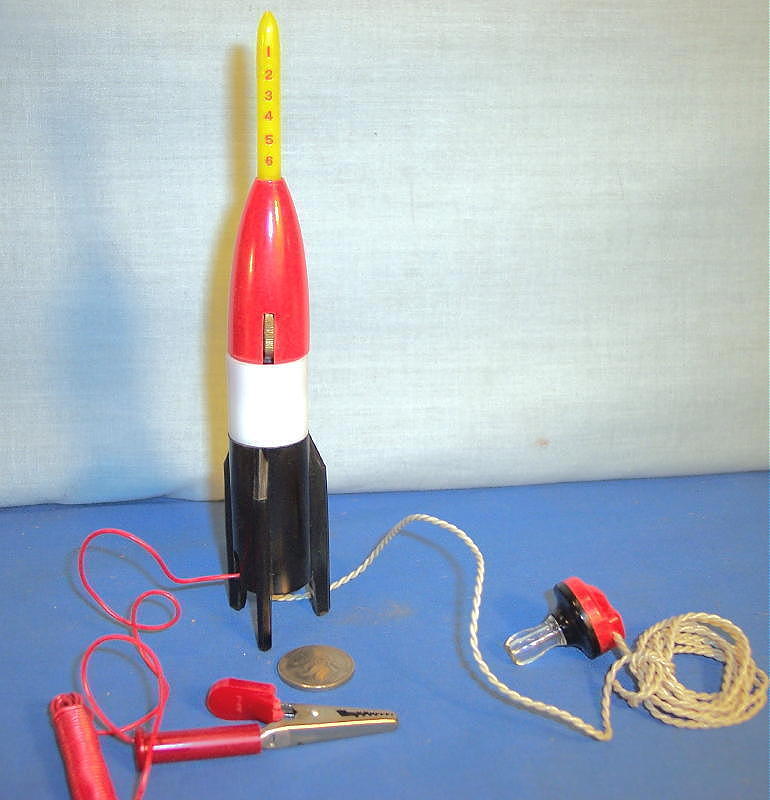 It also comes with a comprehensive instruction sheet that shows how to hook it up and use it. I only opened one box for the photos and for my collection. I hooked it up and could receive several of the local AM stations. These radios are well over 60 years old!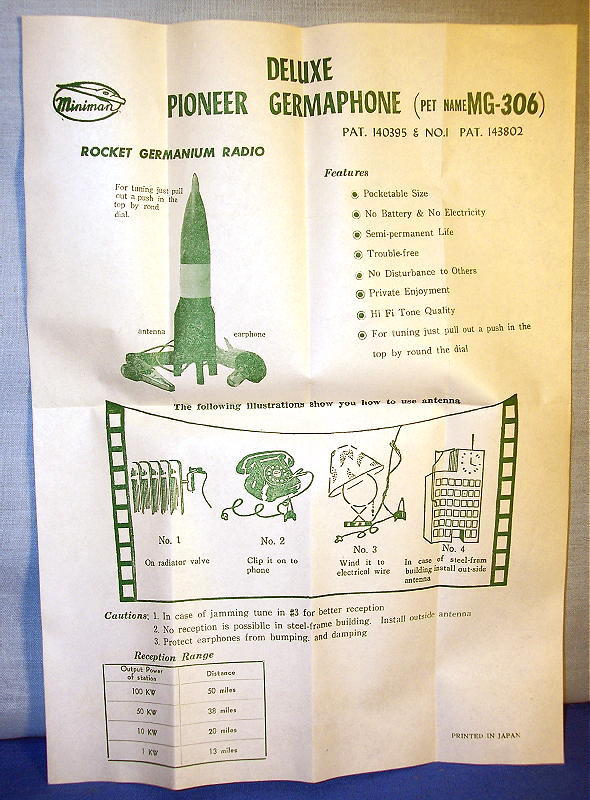 This lucky warehouse find was what was left over from a complete box. We were fortunate to find them, but only have a few dozen. If you like old Crystal Radios or 1950's Japanese imports, this item is for you. Unique Item! No guarantees as to operation in your location. Here is a photo of the boxes of them. These didn't work quite as well as you had hoped back in the 1950's with AM Stations everywhere! Now AM Stations are much fewer and they are farther apart. Minor Box scuffing and Typical expected warehouse aging characteristics of old, genuine, 1950's electronics and plastics. Don't wait! We don't have a lot of them. These are a sure sellout. Order soon to avoid disappointment.
Genuine 1950's Japanese Imports
You get the next unopened Rocket Radio box out of the Wholesale Dime Store Box, AS IS, Just like the Dime Store Stocked them.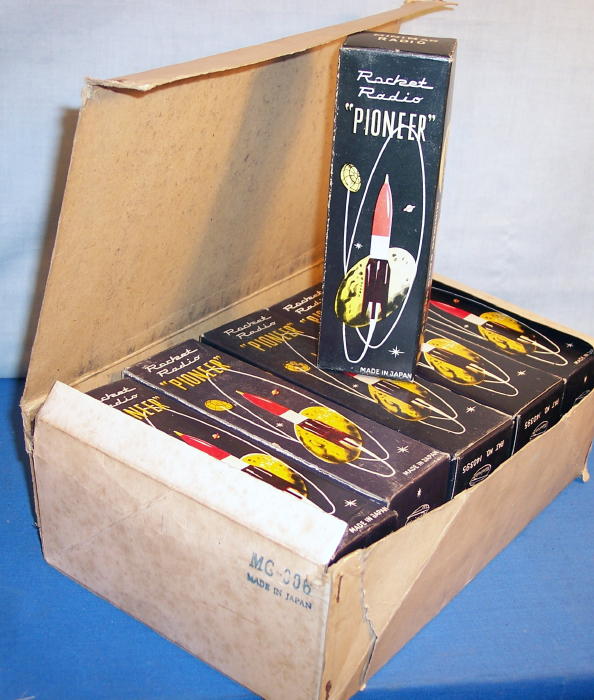 You get one in an unopened box! It says, "Miniman Radio Co., LTD. ~ MADE IN JAPAN". According to the box, This is their deluxe model #MG-306 the Rocket Radio "Pioneer". We wrap it carefully and ship it for $4.85.