Legends of the Wild West
Cap Gun Boxed Set
Pistol ~ Rifle ~ Holster ~ Kerchief
---
This is the Legends of the Wild West Black Canyon BuckEye Set ~ Replica Series. It is a high quality replica of the most prominent items for a cowboy to have in the days of the wild west. It is a boxed, matched, complete set. It includes a Die Cast Engraved Cap Pistol that is 10 inches long. It has simulated ivory handles with the infamous 5 point silver star.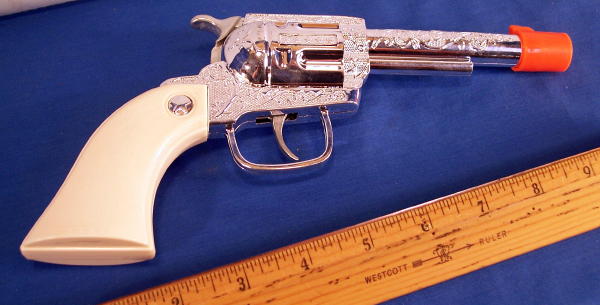 See Photos Below
It has a robust mechanism, easy to load and uses traditional standard paper roll caps (not included) Available anywhere. It comes with a "fitted" antique holster and belt that has tooling designs and rivets. The buckle has the 5 point star and adjustable holes for different size waists. It is black simulated leather.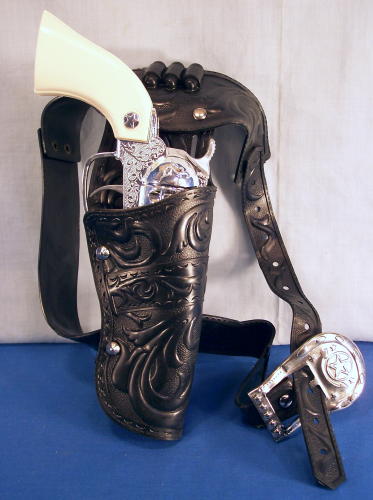 See Photos Below
It also comes with a red Cowboy Kerchief and metal clinch. The kerchief has a cowboy riding a horse in the center, and 4 horses heads, one in each corner.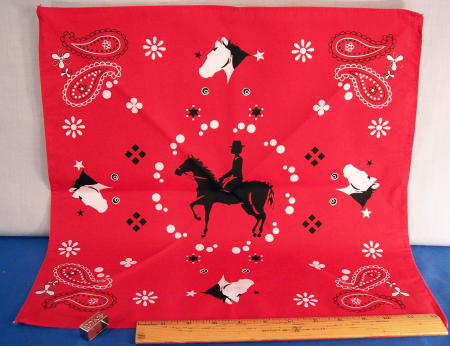 See Photos Below
The kicker is the 27 inch long repeating rifle. The Kansas Cap Rifle. The rifle has repeating semi-automatic action and fires as fast as you can pull the trigger. Both the Kansas Cap Rifle and the cap pistol hold a traditional 50 round roll of paper caps. 3Packages included. This is probably the most common toy cap.

See Photo Below
The whole set is nested in an illustrated cardboard box. This is the set you always wanted when you were a kid. The cardboard box has some minor crumples and nips from years of warehouse handling, but displays well. Other than that, everything is in Perfect Condition! You get it all for one price!
---
Notice : This item is a genuine vintage toy from an era when there were no safety standards. It probably contains, or is, a choking hazard, and probably includes other features that are not suitable for children to play with. It is not being sold as a toy for a child to play with, but as a genuine vintage collectable item for adults. It's heavy! 3 lbs. Mailing weight. Buyer pays Priority Mail charges based on zip code.
---
Illinois residents pay sales tax. We're happy to combine shipments where practical to save you $$$. We accept personal checks or money orders, Paypal, etc. To see our list of Unique and Unusual Items on Ebay, Click Here, Then Bookmark it! Check us occasionally.
No Sales of this Item outside the USA