Link & Load Supermatic Strip Caps
208 Single Action Shots
Carded Set of 16 strips of 13 shots each
---
These Caps have a feature that allows for each strip to link to the tail of the next strip, etc. making a strip as long as you want it! Ideal for the Edison Giocattoli Panthermatic or any other strip cap, semi-automatic cap gun where the caps load directly into the gun. Extremely loud report! These caps have an indexing link that allows the gun mechanism to shoot the caps as fast as you can pull the trigger. The card is 4 inches by 6 inches.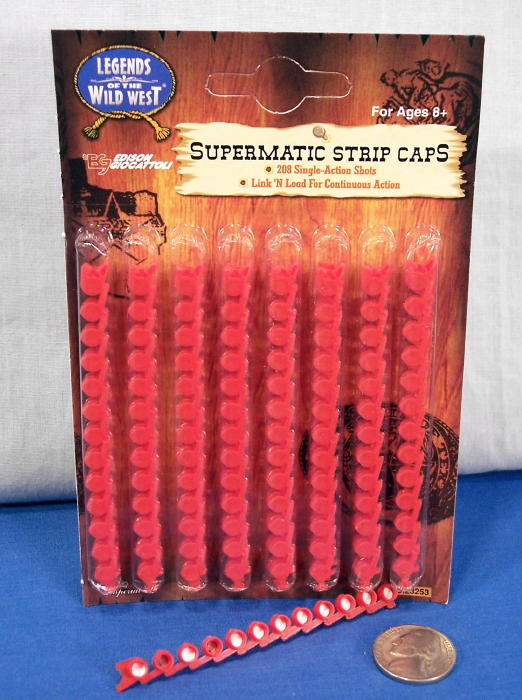 ---
Notice : This item is a genuine vintage toy from an era when there were no safety standards. It probably contains, or is, a choking hazard, and probably includes other features that are not suitable for children to play with. It is not being sold as a toy for a child to play with, but as a genuine vintage collectable item for adults.
---
Illinois residents pay sales tax. We're happy to combine shipments where practical to save you $$$. We accept personal checks or money orders, Paypal, etc. To see our list of Unique and Unusual Items on Ebay, Click Here, Then Bookmark it! Check us occasionally.
Sorry . . .No Sales of this item outide of USA.