1960's Hair Curler Set
Vargas Pin Up Girl Display Card
Comb and 6 Hair Curlers
---
This carded set has fantastic graphics! The top corner is adorned with a Vargas Girl in a lacy negligee with her hands in her hair and Breasts almost showing.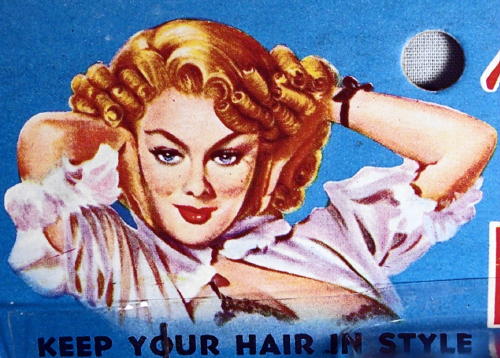 See Photo Below
1960's marketing store display card has a thin blister mounted set with a comb and 2 sizes of curlers, 6 in all. It says, New! All In One Hair Curlers ~ Keep Your Hair in Style. Made in Hong Kong. 8 inches by 4 ¾ inches. No fading, no rips, no folds. Perfect Condition Unique Pin-up collectable. This item is typical of stuff in the large Dime Store merchandise finds we made. If you like vintage Dime Store and Variety Store stuff, bookmark us. We pack it securely and send it First Class U.S. Postal.
---
Notice : This item is a genuine item from an era when there were no safety standards. It probably contains, or is, a choking hazard, and probably includes other features that are not suitable for children to play with. It is not being sold as a toy for a child to play with, but as a genuine vintage collectable item for adults.
---
Illinois residents pay sales tax. We're happy to combine shipments where practical to save you $$$. We accept personal checks or money orders, Paypal, etc. To see our list of Unique and Unusual Items on Ebay, Click Here, Then Bookmark it! Check us occasionally. Click here to E-Mail us Direct!
~ We Ship Anywhere ~