1925 Commercial OK Torpedoes
Empty Fireworks Box
Eagle & Flags Patriotic Graphics
---
This empty fireworks box is 7 by 5 by 3 inches. It is a unique fireworks box. Printed on front and back. Superb front graphics feature an American Eagle, wings spread, perched on a large banner with American flags on both sides of him at the top of the box. The main front graphics display two mischievous boys in knickers and knee socks, throwing fireworks from a box. A Torpedo is a device slightly smaller than a marble, that when thrown will explode when it hits a hard surface. Here is a close-up of the front;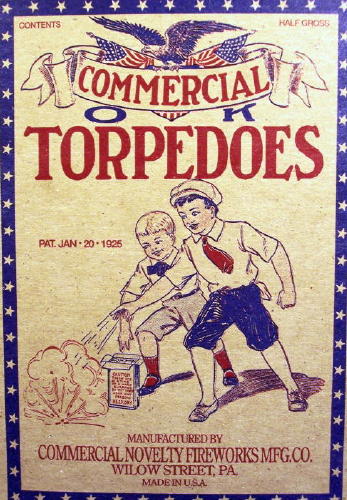 See Photos Below
The front is framed by a blue border with white stars. It says, Contents ~ Half Gross ~ Commercial OK Torpedoes ~ Pat. Jan 20, 1925. Manufactured by Commercial Novelty Fireworks Mfg. Co. Willow Street, PA, Made in U.S.A.. (PA, was the abbreviation for Philadelphia before WWII) Printed on chipboard die cut double flap tab tuck top and bottom type box. No rips, No tears or other damage. Other than the fragile tuck bends, and slight age fade patina, it is not old or shabby. It is shipped flat, unassembled, new unused stock that was never filled.
Typical of a 25¢ box of fireworks that you could buy in the 1920's. The back of the box says, Caution! Throw One at a Time On a Hard Surface. Do Not Throw Near Any Persons ~ Keep Dry. Here is a shot of the back;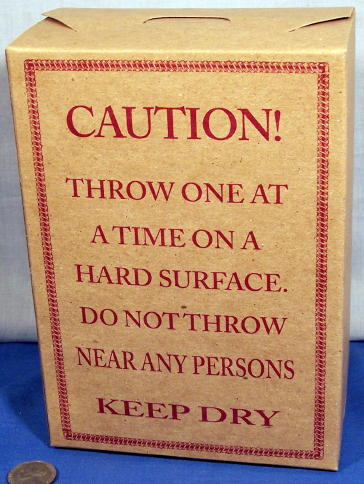 See Photo Below
This item is typical of stuff in the large Warehouse merchandise finds we made. If you like vintage Dime Store and Variety Store stuff, bookmark us. We pack it securely and send it First Class U.S. Postal.
---
Notice :
This item is an authentic vintage toy item from an era when there were no safety standards. It probably contains, or is, a choking hazard, and probably includes other features that are not suitable for children to play with. It is not being sold as a toy for a child to play with, but as a genuine vintage collectable item for adults.
---
Illinois residents pay sales tax. We're happy to combine shipments where practical to save you $$$. We accept personal checks or money orders, Paypal, etc. To see our list of Unique and Unusual Items on Ebay, Click Here, Then Bookmark it! Check us occasionally. Click here to E-Mail us Direct!
~ We Ship Anywhere ~