1948 ~ One Pint Ice Cream Container
Dairy Queen's First
This Is Where It All Started!
---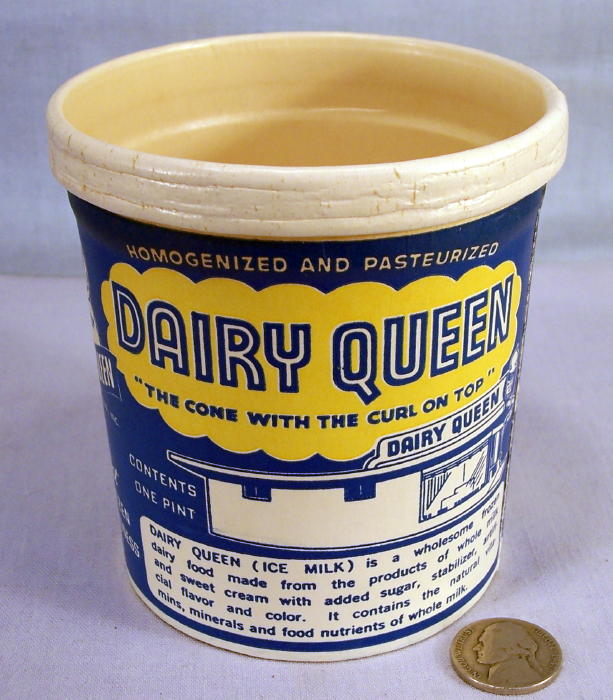 This is where it all started. The first "Take Home" or "Eat it in your car", Ice Cream. The first Dairy Queen store was opened in 1940 in Joliet, Illinois. This cup came from that store! They started with a plain, off the shelf, serving cups for their soft serve ice cream concept. In fact, this cup calls it Ice Milk. The logo "The Cone with the Curl on Top" first appeared on this One Pint container. Things were slow during the war. After the war, they went from plain, off the shelf, waxed paper cups to their own printed version of serving cups, etc. with the formation of the corporation D.Q.N.T. Here is a close up of the Eskimo Baby with a cone.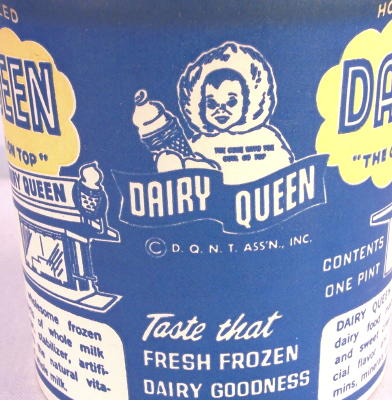 Note the © D.Q.N.T. Ass'n., Inc. It stood for "Dairy Queen National Trade Association Inc. started in 1948 with their first franchising arrangements. That was the beginning of Dairy Queen franchising their "Soft Serve" Ice Cream product empire and printing of common serving containers and packaging methods. This was their first cup package with their name and logo on it! The D.Q.N.T. was the predecessor for the "Dairy Queen National Development Corporation", Formed in 1955. That lasted until 1962 when they became the present day "International Dairy Queen Association". This One Pint Cup was their first use of graphics and Their Famous logo that they still use, "The Cone with the Curl on top".
This is a piece of history! 4 inches high, 3 ½ inches diameter at the top, slightly tapered to 3 ¼ inch diameter at the bottom so they stack. Yellow, Blue & White Graphics, Heavy Waxed Construction, thick top rim. Sorry, no lid. Note the illustration of their store Architectural style that you still see in small towns across America today.
---
---