Wind Up Clockwork Motorized Mechanism
Thing Toilet Bank
Hand Jumps Out of Lid & Snatches Coin
---
This is an exceptional toilet! It looks innocent enough, but place a coin on the front rim and watch out! The lid pops open, a hand at the end of a long scrawny arm reaches out, snatches the coin into the toilet bowl and shuts the lid. It happens so fast it's frightening! One winding is good for at least 2 dozen cycles. Takes any size coin. This is one of those things we will sell out of fast and you will want one. Looks like a miniature toilet. 4 inches high and 6 inches long. This is a gag you'll leave on the coffee table for quite a while. You never get tired of the morbid reactions from people. It has a small door on the bottom to get the coins out. Brand new, old stock. This Vintage gag is still in the original store package.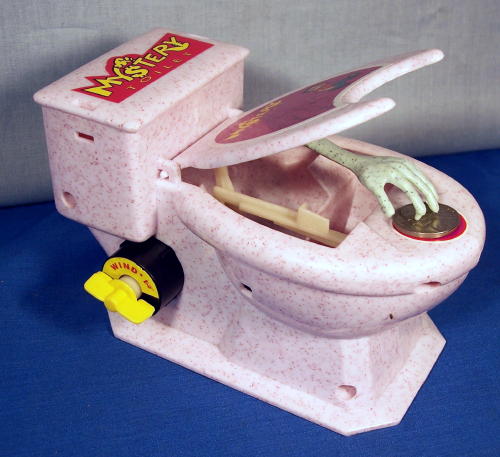 | | |
| --- | --- |
| Esnarf Item . #5551 | Price . . $17.85 |
SORRY . . . . . SOLD OUT
1 Lb. mailing weight. Buyer pays for priority mail based on Zip Code.