1960's Blo-It Plastic Balloon Gunk
Blobo Balloon Store Display Set
72 Tubes of Liquid Plastic and Blow Pipes
---
You remember this stuff. All the dime stores had it. It is a small tube of sticky elastic plastic gunk that you squeeze out into a little blob, form it around the end of the blow tube, and make your own balloon! Kind of like blowing a bubble with bubblegum except it hardens after exposed to air for a while. The set comes in an unopened Store counter display box with a fold up back marquis. Fantastic graphics of a boy blowing his own Blobo Blo-it plastic balloons. It includes ½ gross of unopened packets, each containing a squeezable tube of the gunk and a small straw pipe to blow it on.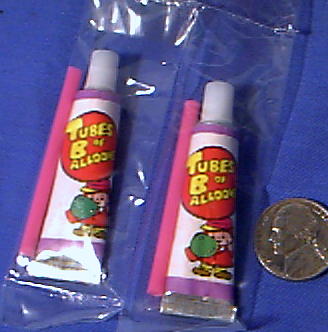 See Photo Below
The tubes have not hardened and you can squish the gunk back and forth in the tube, but I don't know that after almost a half century on the distributors shelf if they still make balloons. The tubes of gunk are the old fashioned soft metal tubes like a toothpaste tube, perhaps lead.
The illustrated display box has distinctive colorful graphics. It is 7 inches by 5 inches by 1 ¾ inches closed, but when you fold out the top back marquis sign it stands 6 ½ inches high. It says, Plastic Toy Blobo Ballon (sic) Make your own Blo-it plastic balloons ~ Blow and create endless different shapes ~ Make bodies, Arms, Legs, Ears and Stick them together to make Funny Figures. Very impressive looking display. You get it all! The die cut display box and ½ gross sets of Blobo. We pack it securely and send it U.S. Postal ~ Priority Mail. Perfect Condition.
---
Notice :
This item is a genuine vintage toy from an era when there were no safety standards. It probably contains, or is, a choking hazard, and probably includes other features that are not suitable for children to play with. It is not being sold as a toy for a child to play with, but as a genuine vintage collectable item for adults.