Working Gambling Novelty
Miniature Roulette Wheel
Bag of 144
---
These roulette wheels really work. They have the traditional roulette red & black numbers. They are as big around as a nickel and about ½ inch thick. It has a magnifying lens top to easily see the action. It also has 12 alternate red and black numbers from 1 to 12 around the rim. Each number has a detent pocket for the ball to fall into so there is no question of what number the ball stopped in.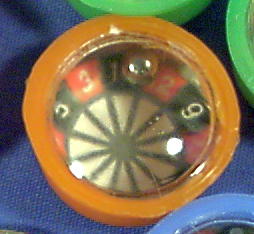 See Photos Below
The steel ball is captive in the case and can't come out and get lost. The magnifying lens allows for easier reading of the winner. You can use them like a roulette wheel and spin it, or use them like dice and drop them on a table top. You will randomly get a number from 1 to 12, either red or black. They come in various color cases as shown below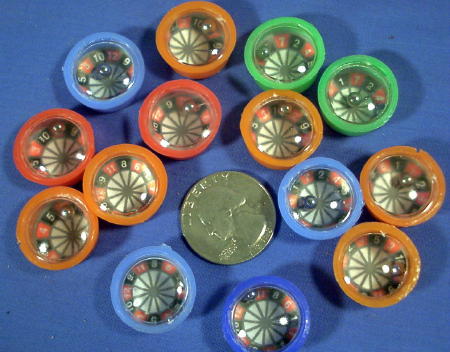 See photo below
You get a bag of 1 gross. 144 little table top roulette wheels! This item is typical of stuff in the large Dime Store merchandise finds we made. If you like vintage Dime Store and Variety Store stuff, bookmark us. Being sold to the highest bidder with no reserve. We pack it securely and send it First Class U.S. Postal.
---
Notice : This item is a genuine vintage toy from an era when there were no safety standards. It probably contains, or is, a choking hazard, and probably includes other features that are not suitable for children to play with. It is not being sold as a toy for a child to play with, but as a genuine vintage collectable item for adults