Die Cut Dime Store Display
Trolls
12 Troll Key Chains ~ 1970's
---
These little guys were very popular. A small, naked thing with Wild Hair. Trolls had invaded everything in the late 1960's and early 1970's. This particular display is a colorfully illustrated header card with die cut features that include provisions for hanging 12 Troll key Chains. These little guys are adorably cute.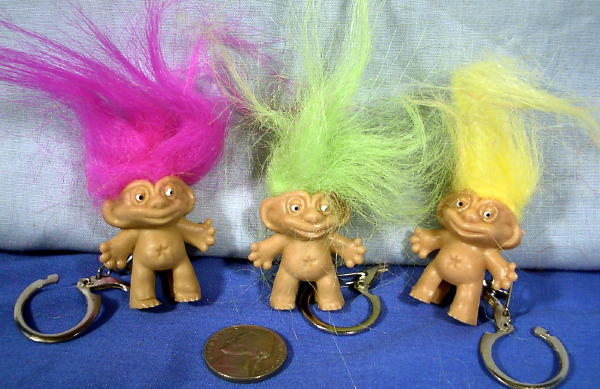 See Photo Below
The display is typical of Dime store and variety store merchandising techniques. The dozen Trolls stand arms stretched out and some have a small star for a belly button and some have a wider ears. There could be multiple styles on the display. They have a variety of colors of bright, wild hair. These trolls are also designed to fit on the end of a pencil. The eraser end of a pencil fits up their ass snugly and holds them tight. Genuine vintage merchandise.
You get all 12 Trolls and the dime store display card. This item is typical of stuff in the large Dime Store merchandise finds we made. If you like vintage Dime Store and Variety Store stuff, bookmark us. We pack it securely and send it First Class U.S. Postal.
---
Notice : This item is a genuine vintage toy from an era when there were no safety standards. It probably contains, or is, a choking hazard, and probably includes other features that are not suitable for children to play with. It is not being sold as a toy for a child to play with, but as a genuine vintage collectable item for adults.