Guess What? 3 Dimensional Stickers
1970's Dime Store Novelty ~ 72 Prizes
Display Box Vintage Transportation 3D Stickers
---
A display Box full of 6 Dozen distinctive small envelopes 4 ½ by 3 inches. They have colorful illustrations and are all sealed. It contains a surprise type, 3 dimensional thick puffy sticker featuring a Vintage Mode of Transportation. Each is in several colors and has minute details unique to that mode of transportation. We opened one for the photo. It is 2 ½ inches long and an eighth inch thick and soft and puffy. It is vinyl and has a peel and stick design.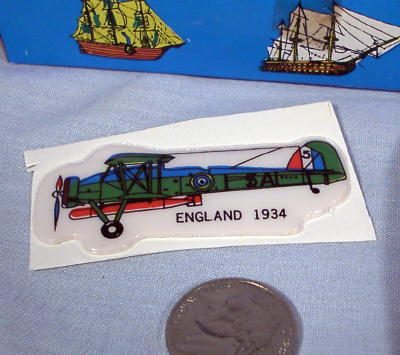 See Photo Below
This is one of an old English airplane dated 1934. Note the torpedo it is carrying on the underside! Phenomenal color details of all the features one would expect to find on this airplane. Not just a cheap flat photo, but a quality, thick graphic illustration of distinction. These are quality stickers. The box contains dozens of different styles and types Ships, Cars, Planes, etc. 72 in all. Perfect Condition.
They sold for 10¢. You never knew what you were getting until you bought it and opened it up! Therefore the name Guess What? They come in a dime store counter top display box, 9 ½ by 6 ¼ inches. It has a perforated, pop up, fold back top marquis with comprehensive Color Illustrations of different stickers one might find in the box. Early 1970's. Very attractive point of sale display. This item is typical of stuff in the large Dime Store merchandise finds we made. If you like vintage Dime Store and Variety Store stuff, bookmark us. We pack it securely and send it First Class U.S. Postal.
---
Notice : This item is a genuine vintage toy from an era when there were no safety standards. It probably contains, or is, a choking hazard, and probably includes other features that are not suitable for children to play with. It is not being sold as a toy for a child to play with, but as a genuine vintage collectable item for adults.