Sliding Squares Puzzle
Oriental Nude
Sex Brain Teaser
---
This is one of those 1960's square puzzles that has 15 sliding square tiles that interlock, but freely slide around in the 16 square frame. When properly aligned they display an oriental nude woman. The multi-colored puzzle is 3 ¾ by 4 ¾ inches. The playfield is 3 inches square. Each tile is interlocked so they can slide to and fro and up and down, but stay locked into the frame. The Illustration is of an artistic nude oriental etching of high quality.
We touched up the photo and used black diomond shapes to cover critical parts of the Oriental Etching. We covered them up only in the photo so as not to offend anyone. They are there as would be expected in a quality artistic etching of an Oriental nude.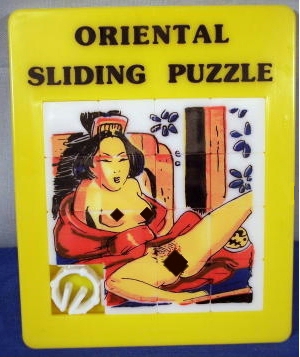 See Photo Below
Typical of the 1960's Hong Kong exports. It is a real challenging puzzle and difficult to do. It comes blister packed on a die cut store display card pre-aligned so you can see the proper finished image when successfully accomplished. It has a small "keeper" in the only open square to keep it aligned until you start the puzzle. Unique format and distinctive graphics. A must for the pocket puzzle collector. A novelty sexually oriental etching oriented item. We only have a few of these.
This item is typical of stuff in the large Dime Store merchandise finds we made. If you like vintage Dime Store and Variety Store stuff, bookmark us. We pack it securely and send it First Class U.S. Postal.