Missile Super Charged Fake Firecrackers
Vintage Firecracker Label & Fakes
Novelty Dummy Joke Fireworks
---
This vintage novelty joke item looks like the real thing! It consists of a dozen, two color, dummy firecrackers in a package with a phenomenal graphic label. The label has fantastic vintage graphics featuring a modernistic 3 finned Missile streaking into space. But read the label closely. At the bottom it says, Dummy . . . . Practical Joke Article in small letters. Here is a close-up of the brick label (You are not getting the brick or brick label);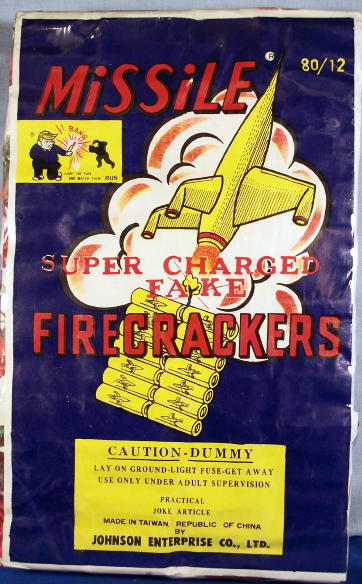 See Photo of Package Label Below
These were popular in the 1950's. No explosive. They are dummies! They give off a lot of fizzle and smoke but they don't go bang and are legal in all 50 States. They sure look real enough right down to the entwined fuses. You are getting an unopened intact packet of 12, with the label, as shown below, all in Perfect Condition! Each individual firecracker has multiple images of the rocket ship going through the clouds. The same graphics that are on the label. Great practical joke article. The Firecracker collectors love these because they are rare, beautiful, old, look real, and are legal. We pack it securely and send it First Class U.S. Postal.
---
Notice :
This item is a genuine vintage toy from an era when there were no safety standards. It probably contains, or is, a choking hazard, and probably includes other features that are not suitable for children to play with. It is not being sold as a toy for a child to play with, but as a genuine vintage collectable item for adults.
---
Illinois residents pay sales tax. We're happy to combine shipments where practical to save you $$$. We accept personal checks or money orders, Paypal, etc. To see our list of Unique and Unusual Items on Ebay, Click Here, Then Bookmark it! Check us occasionally. Click here to E-Mail us Direct!
This Item Shipped to the USA Only!