1960's Dime Store Novelty
Magic Blossoming Cherry Tree
Water Flower Style Blooming Tree
---
This exceptionally innovative performing novelty is from the 1960's. It's beauty and elegance is matched by it's astonishing performance! Similar to the post war Water Flowers in it's extraordinarily entertaining emergence of the beauty of an exquisite and colorful expedient growth.
Basically you stick a bare, twig-like cardboard tree stalk in a shallow dish (included). You add a special liquid, and over a period of 12 hours the bare tree trunk sprouts beautiful distinctive red and white continuing growth that looks like a cherry tree in full blossom. Here are four shots taken a few hours apart.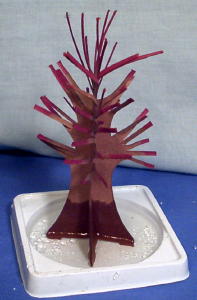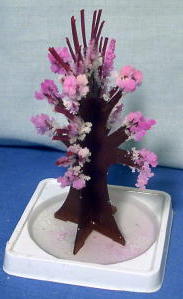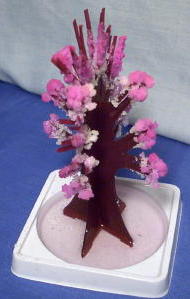 Starting . . . . . . . . . . . . . 3 Hours . . . . . . . . . . . . . . . . 6 Hours . . . . . . . . . . . . .10 Hours
The cardboard paper slowly wicks up the special solution (non-toxic) and distributes the crystalline forming compound to the limb tips where special treated features cause it to grow crystal structures that look like tiny blossoms and develops the bare tree branches into a thick, lush red and white blossoming Cherry tree. The secret is the combination of the special liquid and the specially treated limb tips.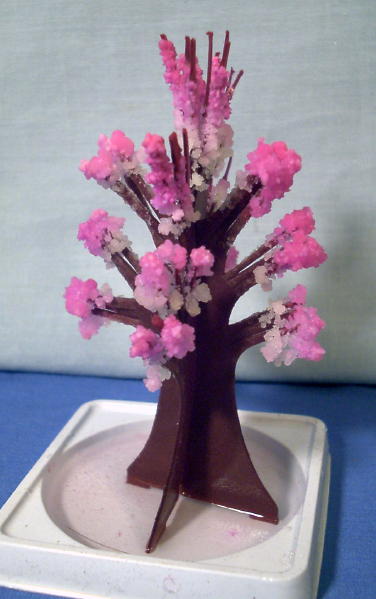 12 Hours
See Photo Below
It is a beautiful specimen of a vintage novelty no longer made. It's very entertaining to setup and watch. It comes in a small (8 ½ by 4 inch) dime store display card box with colorful illustrations and complete instructions. This is one of the finest vintage novelties of it's type. The special liquid has crystallized with age, but is easily pulverized, mixed with a little water and it works fine. Almost a half century old! Works great, Perfect Condition! Click Here to see 3D Photo. Click here to watch it in action!
This item is typical of stuff in the large Dime Store merchandise finds we made. If you like vintage Dime Store and Variety Store stuff, bookmark us. We pack it securely and send it First Class U.S. Postal.
---
Notice : This item is a genuine vintage toy from an era when there were no safety standards. It probably contains, or is, a choking hazard, and probably includes other features that are not suitable for children to play with. It is not being sold as a toy for a child to play with, but as a genuine vintage collectable item for adults.