Stainless Steel ~ Multi Purpose
Swiss Army Style Knife
13 Instruments with 5 Blades
---
This universal knife when closed is 3 ½ inches long. It has a wire loop holding fob at one end. Hard, black Bakelite type casing with inlaid brass design. It has 13 individual instruments and devices. That fold out and spring snap sturdily into place. Durable Design. All the apparatus and blades are hardened stainless steel. It comes in a black, red and gold gift box.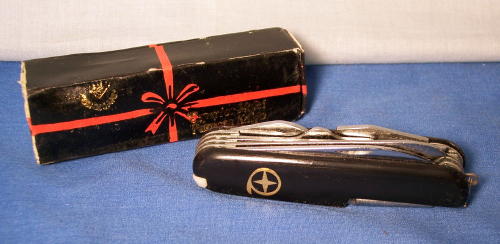 See Photos Below
This is the knife that is commonly referred to as a Swiss Army Knife because of the versatility it supplies the possessor. It assists in a multitude of tasks required by a soldier or hunter or fisherman, etc. With its numerous features it makes an ideal pocket companion for any outdoorsman. Here is a small shot from the back with the devices and blades open.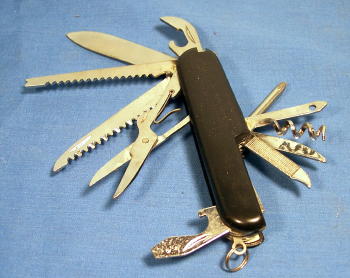 See Large Front Photo Below

The different utensils and implements can be used in conjunction with each other to do just about anything. Here is a list of the individual integral components

A Standard 3 Inch Sharp Knife Blade

A Course Serrated General Sawing Blade

A fine Serrated Cutting Blade with a Bifurcated Pry Tip Lifter

A Universal Can and Tin Opener

A Pair of Spring Return Scissors / Snips

A Philips Screwdriver

A Pointed Flat Lever Pry Blade with a Pry Hole

A Cork Screw Auger Device

A Flat Edge 1 ½ inch Universal Tool Blade

A Bowie Tip Stab Blade with a Rasp File Flat Side

A Bottle Opener with a Flat Blade Screwdriver End

A Removable Pair of Tweezers with a Hook Retrieval Head

And Yes, a Customary, Trapezoid Removable Toothpick

Everything except the toothpick is made in hardened China Stainless Steel. This is a quality instrument that is an invaluable aid when needed for emergency or urgent situations requiring creative and resourceful field engineering. It pays for itself the first time you use it! Quality engineered and manufactured. Snag free pocket or belt loop attachment fob.