Clever Pocket Keychain ~ Flashlight
Corvette Sports Car ~ Flip On Headlights
Die Cut ~ Store Display of 12 ~ 1960's
---
A DOZEN unique Corvette Sports Car pocket key chain flashlights on a Die Cut, Store Point of Sale Display Card. This 1960's pocket key chain is a real classic! It's a small early 60's Corvette Sports Car. Exceptional details from the rear spoiler to the front wheels. This item was designed for that era's sport car enthusiasts. You will be astounded by the distinctive Vette features like mirrored windows, fender lights and spoke wheels. The car is 3 inches long and 1 ½ inches wide. They come in three colors, a dozen to a display card.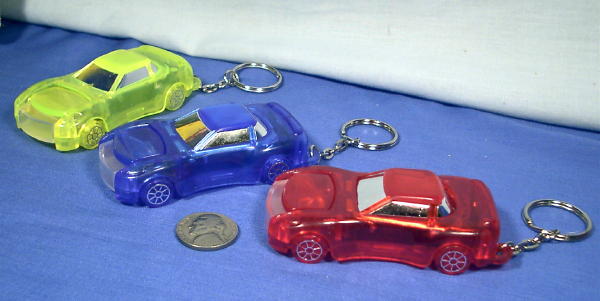 See Photos Below
They have a clever flashlight feature that works like the head lamps on a real Corvette! The hood and headlight assembly are on pivots, and you Flip the Headlights Around and they Light Up Brightly. Once they are flipped out in front, the light in the headlight lens turns on. It casts a bright focused flashlight beam. The 2 AAA cell batteries are hidden in the car body.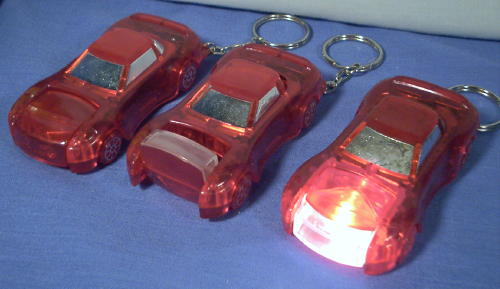 Turned Off ~ Lights Flipping Half Way Up ~ Lights flipped out in front and ON
See Photo Below
You get 12 Corvettes, 3 colors. Brand new unsold dime store merchandise. They are really cool. You also get the colorful illustrated Point of Sale 1960's Dime Store Display Card. It exhibits a scalloped top and edges, and special features for attaching the key chains so the customer can take it off, examine it, and put it back. Heavy thick laminated card stock, yellow, red and black printing, it displays a dozen of the key chains.
You get it all! You get an impressive 1960's Store Display complete with a dozen Corvette Sports Car Key Chain Flashlights! Perfect Condition! You will not be disappointed. This item is typical of stuff in the large Dime Store merchandise finds we made. If you like vintage Dime Store and Variety Store stuff, bookmark us. It's heavy, 2 Lbs shipping weight. Buyer pays actual priority mailing depending on Zip code.
---
Notice : This item is a genuine vintage item from an era when there were no safety standards. It probably contains, or is, a choking hazard, and probably includes other features that are not suitable for children to play with. It is not being sold as a toy for a child to play with, but as a genuine vintage collectable item for adults.