Flintstones Dime Store Novelty
10¢ Fortune Teller
With Display Box ~ 1977
---
This exceptional item has a remarkable counter top display box and 2 Gross of envelopes with the product inside. This 10¢ Toy is a fortune telling device! I was skeptical until I opened up a packet. There are 1 gross of Fred Flintstone and 1 gross of his daughter Pebbles. Each envelope contains a small red film plastic with likenesses of either Fred or Pebbles on them. You hold out your hand, palm up and flat, and set the red film plastic on your palm. Almost immediately this thing comes to life! It rolls, curves flips over and crawls around your palm. By watching the action and comparing it with the code on the back of the envelope you can assess your personality!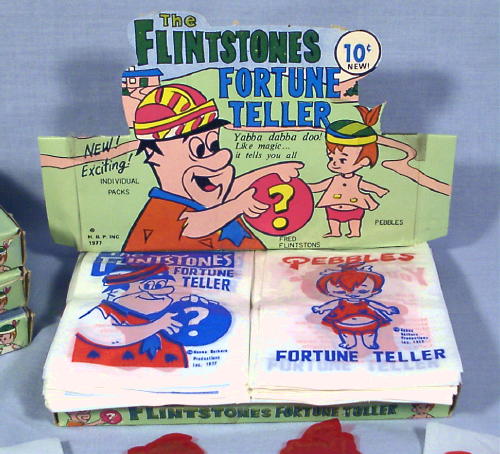 See Photos Below
The red film Flintstones image fortune tellers come in individually packaged envelopes. The back of the envelope helps assess your Mood.
Each envelope has this table on the back to assess your personality.
If the Flintstone Figure has;
Moving head = Jealousy
Moving feet = Indifference
Moving head and feet = In Love
Curling sides = Fickle
Turns over = False
Motionless = Cold Sweat
Curls up entirely = Excitable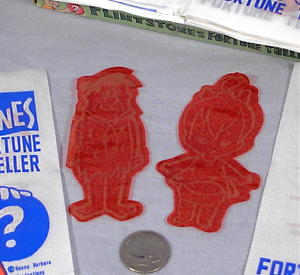 See Photo Below
These things really work, even after more than a quarter century, they jump, curl and crawl, and move about your palm in a silly way activated by the differential heat of your palm! Everyones palm reacts differently. They are fun! You get 2 Gross (288) fortune teller packets altogether, 1 gross of Fred and 1 gross of Pebbles. Perfect Condition.
You also get the dime store counter top display box. It is 6 inches by 4 ½ inches, ¾ inches thick. It has a perforated pop up top that folds into an attractive back marquis with distinctive color illustrations of Fred & Pebbles and a Question Mark. It is printed 10¢ (each). Copyrighted H.B.P. 1977. The box is very attractive and looks impressive on a counter top or shelf. The box is in great shape, still taped shut. Some minor nips or bruises easily repaired. It displays well. We don't have many of these. This item is typical of stuff in the large Dime Store merchandise finds we made. If you like vintage Dime Store and Variety Store stuff, bookmark us. We pack it securely and send it First Class U.S. Postal.
---
Notice : This item is a genuine vintage toy from an era when there were no safety standards. It probably contains, or is, a choking hazard, and probably includes other features that are not suitable for children to play with. It is not being sold as a toy for a child to play with, but as a genuine vintage collectable item for adults.