Repeating Perforated Roll Caps
Star Brand
5 Roll Box ~ 250 Shots ~ 1950's
---
Star Brand Repeating Perforated Roll Caps. Red, White & Blue box 1 inch by 1 inch by 2 ¼ inches. Made by M. Backes' Sons, Inc. Wallingford Connecticut. Contains five, 50 shot rolls of perforated repeating paper caps for cap guns and pistols and rifles. 1950's era, they have a small hole between each charge for the cap guns mechanism to index it automatically to the next shot.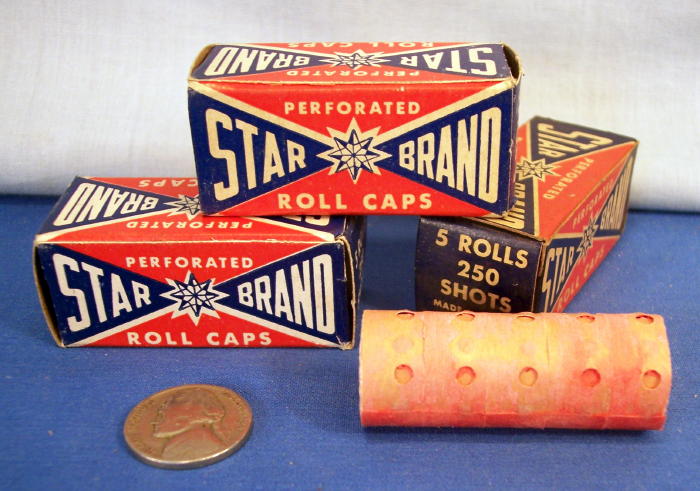 These caps are over a half Century old and might not all fire or be as loud as fresh caps, But the caps and box are in Perfect Condition. Great collectors item. We only have a few dozen boxes.
---
Notice : This item is a genuine vintage toy from an era when there were no safety standards. It probably contains, or is, a choking hazard, and probably includes other features that are not suitable for children to play with. It is not being sold as a toy for a child to play with, but as a genuine vintage collectable item for adults.