Novelty Viewer Camera 1950's
The 7 Wonders of the World
7 Wonders of the World Illustrations
---
This 1950's novelty viewer looks like a small camera. It comes with a neck strap and the 7 Wonders of the Ancient World viewing film. The Great Pyramid of Giza ~ The Hanging Gardens of Babylon ~ The Statue of Zeus at Olympia ~ The Colossus of Rhodes ~ The Temple of Artemis at Ephesus ~ The Mausoleum at Halicarnassus ~ The Lighthouse of Alexandria. The illustrations are typical photo style like these three.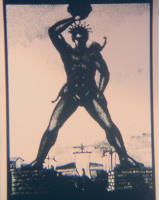 . . . . .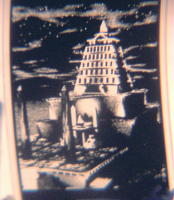 . . . . . .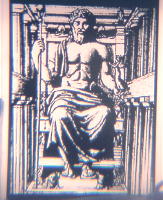 See Photo Below
The images are slightly age faded, but the film is completely intact and not brittle. The camera is 2 inches by 1 inch by 1 inch. It has a slot in the back that you slip the film through, and index it one pose at a time, while looking through the front lens. The illustrated display box that it all comes in is typical of 1950's and early 60's marketing packaging. The end of the box says 7 Wonders of the World . Everything is in Perfect Condition. Exceptional 1950's novelty item.
We pack it securely and send it First Class U.S. Postal.
---
Notice :
This item is a genuine vintage item from an era when there were no safety standards. It probably contains, or is, a choking hazard, and probably includes other features that are not suitable for children to play with. It is not being sold as a toy for a child to play with, but as a genuine vintage collectable item for adults.