Dynamic Blooming Flowers
Blossoming Water Flower
Japan Novelty ~ Early 1950's
---
This is an all time Japan classic. Japan exported several styles of water flower novelties. It was one of the first Penny Toys that they made after the war. Several versions were made right up into the early 1960's. This is a version made in the early 1950's. You remove the wax paper envelope and drop it into a glass of water. Over a short period of time, usually about 5 minutes, they expand and blossom right before your eyes into a beautiful, colorful bouquet of flowers. Fun to watch.
Here is what they look like in a glass of water after a little while!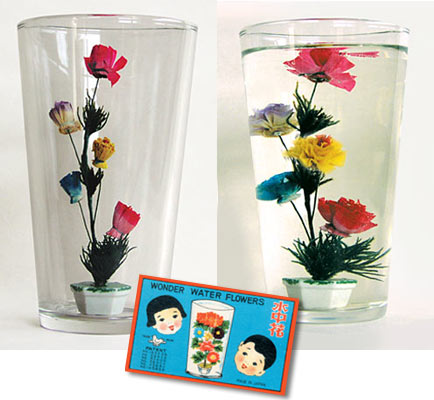 See Photo Below
Water flowers are delicately hand made from sea sponge and rice paper and wire. They are compressed between glass and dried in the sun. They are squeezed down to about 10% of their fully developed size. When they are immersed in water, they slowly swell up and open into large vivid multicolored flowers. It is intriguing to observe the slow, expanding growing action. These flowers are made around a fine vertical wire embedded in a small stone pot. They are 4 ½ inches high. When they bloom, they fill a glass of water with a stunning bush of green foliage with spectacular flowers. Perfect Condition.
This item is typical of stuff in the large Dime Store merchandise finds we made. If you like vintage Dime Store and Variety Store stuff, bookmark us. We pack it securely and send it First Class U.S. Postal for a $2.85 mailing fee.
---
Notice : This item is a genuine vintage toy from an era when there were no safety standards. It probably contains, or is, a choking hazard, and probably includes other features that are not suitable for children to play with. It is not being sold as a toy for a child to play with, but as a genuine vintage collectable item for adults.