Vintage Electric Shock Prank
Shocking Nude Cards
Electrical Shock Novelty Gag Joke
---
This gag has been around since the 1900's. This is the 1970's version. What appears to be a normal box with a deck of partially clad nude women playing cards in it, is really a classical electrical shocking gag. The disguised inner box has two electrically conductive metal pads at both sides of the top. The internal electromechanical mechanism takes two small batteries. It has a vibrating reed step-up coil much like the old Model T vibrating spark generators. It steps up the 3 volts from the batteries to a pulsating several hundred volt shock generator connected to the side pads at the box top. It is triggered by a spring loaded switch at the bottom. As long as the box is in its cover, it is "off" and safe to handle.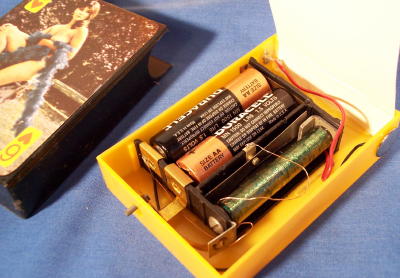 See Photo Below
Just set it on a table top and watch the fun! There is one partially nude playing card glued to the cover front. Curiosity always overcomes the victim. Sooner or later they will want to see what the other cards look like. The only way to open the box is to grip the top at the sides by straddling the electrical metal pads with you thumb and forefinger. When you slide the box out of the cover, the bottom switch activates the vibrating reed step-up transformer and delivers a pulsating shock to the victims finger and thumb through the metal side pads! It's hilarious! This classical gag will get even the most weary of victims. Works great! Unused still in package.
---
NOTICE: This vintage prank is being sold only as a novelty. It is a genuine vintage item from an era when there were no safety standards for this type of merchandise. It can be dangerous to startle someone with a weak heart condition. It probably contains, or is, a choking hazard, and probably includes other features that are not suitable for children to play with. Misuse of this can really piss some people off. These type of gags have precipitated lawsuits. Buyer uses at their own risk.