Captain Kangaroo's Record
"Treasure House of Best-Loved Songs"
45 RPM Record & Photo Sleeve ~ 1958
---
Bob Keeshan, The Sandpipers ~ Mitch Miller
This Record and photo sleeve are unsold dime store merchandise. It is 7 inches square. 45 RPM, Extended Play. The cover has a photo of a very young Captain Kangaroo. According to the cover, the record features Bob Keeshan, The Sandpipers, Orchestra under the direction of Mitch Miller, and Lumpy Brannum as Mr. Green Jeans. Here is a shot of the back.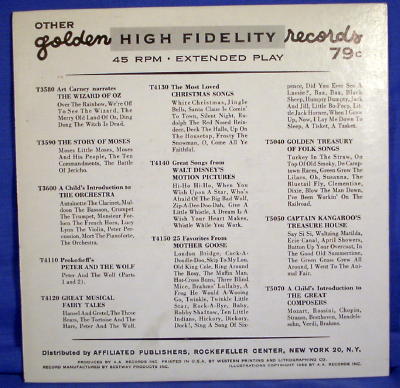 See Front Photo at the Bottom of This Page.
The 8 songs are; Animal Fair ~ Say "Si Si" ~ Waltzing Matilda ~ Button Up Your Overcoat ~ Erie Canal ~ April Showers ~ Good Old Summertime ~ Green Grass Grew All Around. This record has never been played! Unsold Dime store merchandise. On the back it says, Distributed by Affiliated Publishers, Rockefeller Center, New York 20, N.Y. ~ Copyright 1958 by A.A. Records. This record is over a Half Century Old! Rarely do I have the opportunity to present such an impressive and rare item in Perfect Unused Condition. This item is typical of stuff in the large Dime Store merchandise finds we made. If you like vintage Dime Store and Variety Store stuff, bookmark our sellers page. We pack it securely and send it First Class U.S. Postal.