Super Hero Ring Set ~ 1977 Marvel
---
Spider-Man ~ Spider-Woman ~ Dr. Strange
Hulk ~ Ghost Rider ~ Captain America
---
These are genuine 1977 rings that were sold in dime stores in the 1970's. Adjustable band, one size fits all. All metal construction, bright anodized finish.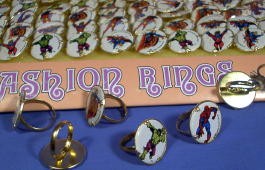 See Photos Below
The image medallion is almost an inch in diameter. Exceptional enameled lithography. The illustrations of Marvels Super Heroes are distinctive poses, with extraordinary precise color details and clarity in the quality of the litho image. Note the intensity of Spiderman's image in the photo below.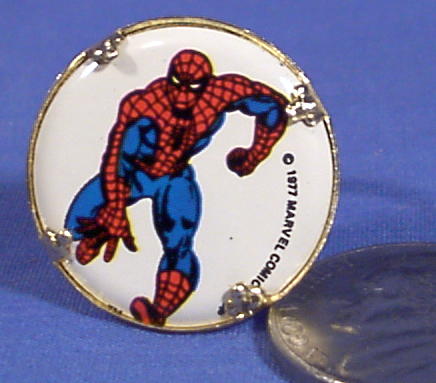 See Photo at Bottom of Page
These rings are over a Quarter Century Old!. Original unsold Dime Store stock. They came from a now defunct Variety and 5 and dime store distributor in the original dime store display box shown below.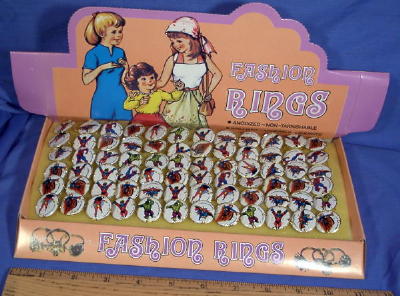 See Photo at Bottom of Page
There are 6 different super heroes. You get 1 of each, a complete set of 6, all shown in the photo below.
You Get all 6 Different Rings!
You are getting a half dozen for your money. You get Spider-Man ~ Hulk ~ Dr. Strange ~ Spider-Woman ~ Ghost Rider and Captain America. All are in Perfect Condition. This item is typical of stuff in the large Dime Store merchandise finds we made. If you like vintage Dime Store and Variety Store stuff, bookmark our sellers page. We pack it securely and send it First Class U.S. Postal.
---
Notice : This item is a genuine vintage toy from an era when there were no safety standards. It probably contains, or is, a choking hazard, and probably includes other features that are not suitable for children to play with. It is not being sold as a toy for a child to play with, but as a genuine vintage collectable item for adults.