Double Barrel Shotgun ~ 34 Inch
Worlds Finest Cap Gun
Edison Giocattoli ~ Monte Carlo Gun
With Primers and Shells
---
This cap gun is considered the worlds finest. Made in Italy by Edison Giocattoli, 4 generations of cap gun makers. It is 34 inches long, breach load, double barrel, double trigger with safety. Intricately detailed ornate metal scrollwork, shoulder belt loop attachments. This is the same gun that comes in the famous Monte Carlo Cap Gun and Accessory Set.

The gun is a self ejecting breach load, side by side double. The small shotgun like shells are 1 ¾ inches long. They reload easily with plastic cap "primers", available at eSnarf.com through the internet or fine sporting goods shop. The metal sides are meticulously detailed with ornate scrollwork.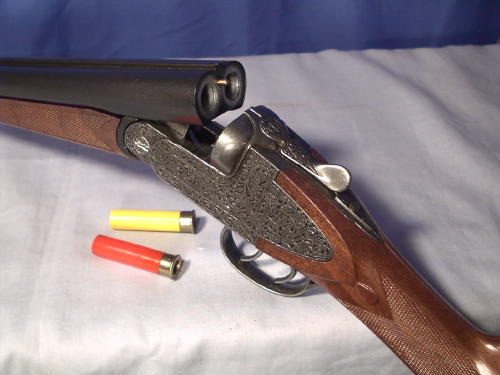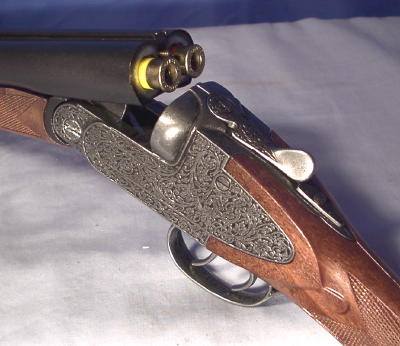 See Photos Below
We also throw in a package of 2 dozen primers and 2 shells with a primer loading tool. More ammunition sets are available at good sporting goods stores or through our catalog on the internet.
Click Here for Replacement Ammo Information
Includes the Ammunition Set Shown Below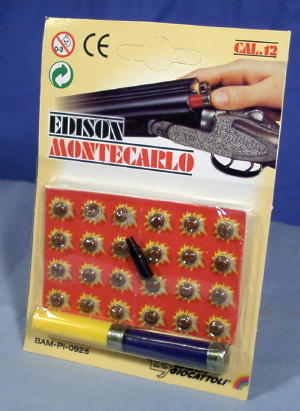 See Photo Below

This is recognized as the finest cap gun in the world. You will never find a better cap gun! Looks like a quality, miniature shotgun. The cardboard box is torn and squashed some from being at the bottom of a pile in an old variety store warehouse, so it is not included, but other than typical warehouse rubs and surface patina the gun is in excellent, unused condition. Works Great! Being sold to the highest bidder with no reserve. Securely packed and boxed for free. It is heavy! 4 lbs. Mailing weight. Buyer pays Priority Mail charges based on zip code.

~ Sorry, No Shipments of this Item out of USA ~