Ponytail Holders
Full Dime Store Display Board ~ 1950's
---
This colorful unique display contains a dozen Ponytail Holders. Each holder consists of a pair of distinctive matching bead and metal settings, attached to the ends of a small stretch loop of elastic band. Four different styles, 3 of each, are mounted to a perforated store display card.
The display board has typical 1950's graphics featuring a young lady with pony tails. Each ponytail holder is individually mounted to a section of the display card that has perforated edges, so that they can be removed and sold individually still mounted to the colorful card that includes instructions and exceptional graphics!
Close Up Photo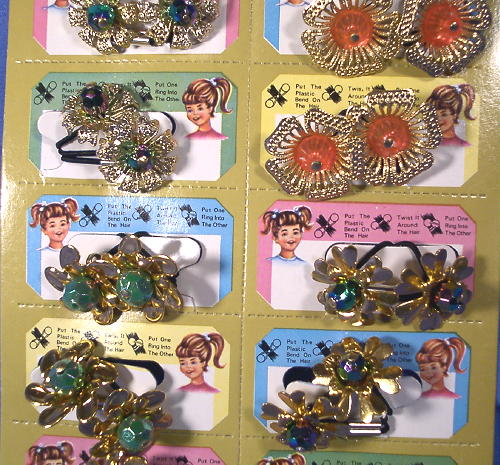 See Photo Below
Each perforated card with the merchandise attached is 2 ½ inches by 1 ½ inches. The whole display board is 10 inches tall and 5 ¼ inches wide. Classic 50's variety store merchandise with display. Perfect Condition. We pack it securely and send it First Class U.S. Postal
.