Set of Six Different
1940's & 1950's
Hollywood Movie Stars
Magnified Novelty Telescope Viewers
---
These unique little magnified viewers feature 1940's and 1950's Movie Stars and Radio Personalities. Hollywood at it's best! They are shaped like little telescopes with 2 tone plastic composition. There is a lens at one end, and a white light gathering screen at the other. Just look through it towards a bright light and you will see a famous personality from Hollywood's 1950's.
Here are shots I took through a camera of 4 of them chosen at random. The image is much better when placed to the eye. Left to right they are, Stewart Granger ~ Ava Gardner, second row ~ Desi Arnez with Lucille Ball & Joan Crawford.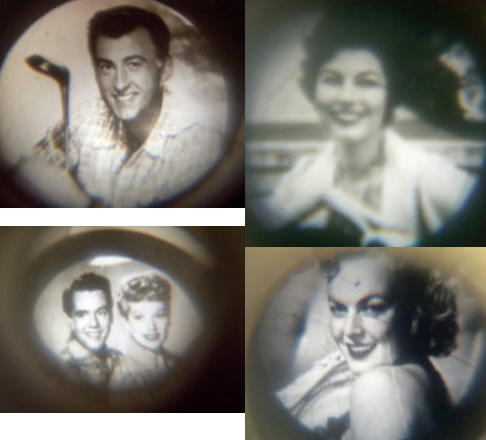 See Photo Below
Each telescope is a little over an inch long. These were a popular novelty and were sold at Dime Stores, movie theater lobbies, and from vending machines. They were even used as prizes in the coin operated "Claw" style prize digging machines. We give you a set of 6 chosen at random from a box full. We can't guarantee which movie stars you will get, but they are all famous and we promise you 6 different ones.
These were made in the early to mid 1950's. They are over a half century old. Typical age patina, some are slightly faded or a little out of focus, otherwise good condition! When the small box we have is gone, they are gone for good. We pack them securely and mail it to you First Class U.S. Postal.
---
Notice :
This item is a genuine vintage toy from an era when there were no safety standards. It probably contains, or is, a choking hazard, and probably includes other features that are not suitable for children to play with. It is not being sold as a toy for a child to play with, but as a genuine vintage collectable item for adults.