With 3 Different Paper Scrolling Cartoons
Vintage Toy Mechanical TV
The Three Little Pigs ~ The Tortoise and the Hare ~ Little Red Riding Hood
---
This clever little amusement toy looks like a small TV. It has two knobs on the side. You put in one of the cartoon paper scrolls, and turn the knob, one frame at a time, to read a story. You stop at each frame like flipping a page in a book.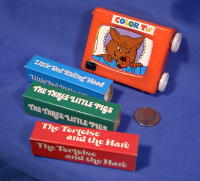 See Photo at Bottom of Page
Colorful illustrations and text on each frame. It includes scrolls for three of the most famous children's stories, The Three Little Pigs ~ The Tortoise and the Hare ~ Little Red Riding Hood. Still on the dime store display card. Perfect Condition. This item is typical of stuff in the large Dime Store merchandise finds we made. You are getting the set in the original package. We pack it securely and send it First Class U.S. Postal.
---
Notice :
This item is a genuine vintage toy from an era when there were no safety standards. It probably contains, or is, a choking hazard, and probably includes other features that are not suitable for children to play with. It is not being sold as a toy for a child to play with, but as a genuine vintage collectable item for adults.