Minefield Sign
WW II ~ Army
Skull & Crossbones ~ Steel
---
This all steel sign is an original, from a small stack found on the old sign makers warehouse shelf before their building was demolished. Army Standard Mine Field sign. It is the familiar triangle shape, with sharp protruding corners and adorned by the traditional International Symbol for Death, the Skull and Crossbones. It also says MINEFIELD in large, bold letters. Used for staking out Minefield areas along roads and trails through out WWII. It is 12 ¾ inches across at the bottom, 6 ½ inches high, thick gauge steel, painted red with white features.

The back is stamped in small letters, 1942 ~ METAL MINEFIELD MARKER M-2 and has a 10 digit military item number. There is a ½ inch hole at the top for mounting. No rust, no scratches. This is a genuine surviving sign in Perfect Condition. We also got a small stack of the similar 1960's aluminum style used during Viet Nam War. Check our catalog. A little over 1 Lb. shipping weight. Buyer pays priority shipping based on Zip Code.
---
Illinois residents pay sales tax. We're happy to combine shipments where practical to save you $$$. We accept Paypal ~ Personal Checks or Money orders, etc. To see our list of Unique and Unusual Items on Ebay, Click Here, Then Bookmark it! Check us occasionally. We list neat stuff like this all the time! Click here to E-Mail us Direct!

~ We Ship Anywhere ~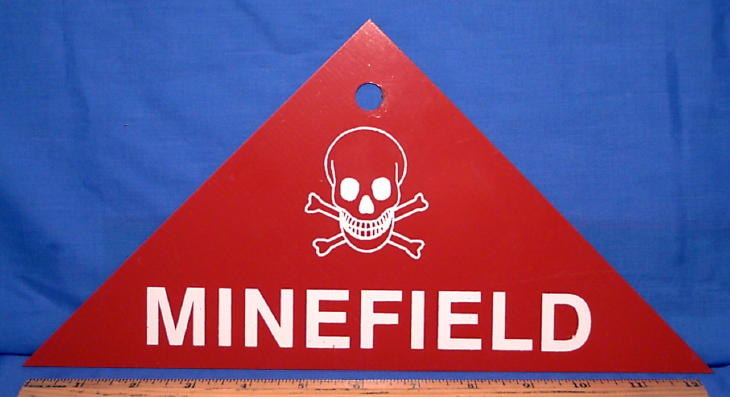 | | |
| --- | --- |
| Esnarf Item . #4301 | Price . . $39.85 |
See Similar Item # 4300 ~ Click Here.