Whiz Ball 1¢ Game
Limited Edition ~ 1930's Style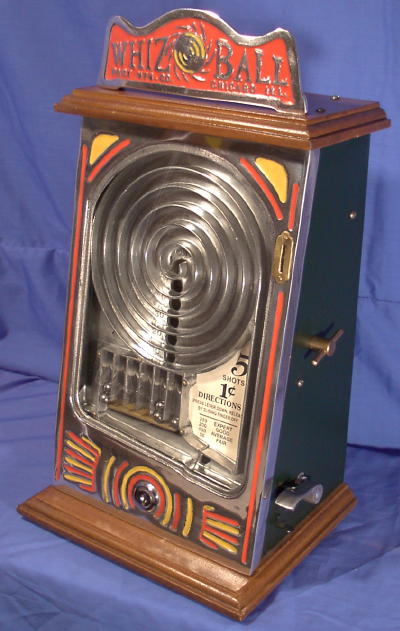 Whiz Ball 1¢ Counter Top Skill Game 1930's Style
Commemorative Edition
With Serial Number and Certificate of Authenticity
---
This coin-op fun game is one of the all time classic penny skill games! Commonly used in a Pool Hall, Saloon, Ma & Pa General Store, Barber Shop, etc. in the 30's, 40's and 50's. First made in the early 1930's by Pace Manufacturing Company. It is one of the most fun counter top skill games ever made! It's only 9 inches wide and 17 inches tall to the top of the marquis, it didn't take much valuable counter space, and as a trade stimulator, its play appeal made it profitable to operate. Patrons would line up to play this machine, each trying to top the high score! Some merchants would offer a candy bar or other prize for a high score. It also has a feature that allows it to be wall mounted with 1 screw!
It works like this; The player inserts a penny into the slot, turns the crank on the side of the machine, and 5 steel balls drop into the playfield shooting trough. One at a time, the player "snaps" the thumb operated shooting handle, and shoots one of the steel balls whirling up into the spiral playfield. Centrifugal force speeds the ball up as it goes around the playfield! It's easy to shoot it hard and get the center score hole, so that hole is an "Out". The hardest hole to hit is the next one from the center which is 50 points. The other score holes are 40, 30, 20 and 10 points. When the ball enters one of the scoring holes, it is sorted into a score tally column. After the player shoots all 5 balls, he tallies his score in the score columns. You got a lot of fun for a penny!
To watch it being played on You Tube, Click Below ↓
---
To View a 3D photo of this Game in full effect 3 Dimensions ~ Click Here
This is the 50th Year Commemorative Limited Edition
It has been 50 years (1952) since this machine was in production. A very limited number were made last year to evaluate the condition of the original Pace tooling after almost 50 years of being idle. Those few dozen sold out quickly. Minor improvements were made, wood grain finished composition wood tops and bottoms, larger, easier to read playfield score numbers, and the top marquis is painted to match the front casting. This is exactly how the machine was made and looked when it was shelved in 1952! Each machine has a serial number stamped into the back base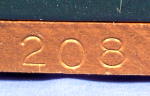 and is accompanied by a corresponding numbered Certificate of Authenticity, signed by the slot master who supervised this final run and is suitable for framing. A limited number of 400 machines were manufactured. After the last production run of this model was made, the tooling was destroyed. This machine will never be made again. 400 might sound like a lot, but that's only 8 per State! They are selling fast and destined to be a sell out. If you want one, get it soon!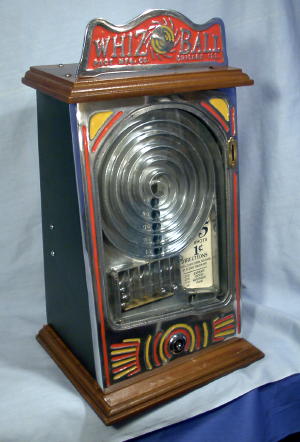 This machine is a working extended production of the original Pace Whiz Ball made from original Pace tooling. It looks and plays identical to the old machine. Aluminum, Brass, Steel and Wood, No Plastic, made to original 1952 print specs, right down to the brass handle and the slotted screws! Works great! Not Old. Perfect Condition. Comes with the top marquis and two keys. It is heavy due to original thickness plate glass, Steel Case, brass parts, etc.
18 Lbs. Shipping weight.
To View a 3D photo of this Game in full effect 3 Dimensions ~ Click Here
| | |
| --- | --- |
| Esnarf # 4283 | Price . . . . $465.00 |
Sorry . . . . Sold Out