Roasted Coffee Box
Bugle Call
1910's Cavalry Picture
---
Vintage graphics, typical of a 1 Pound upscale coffee box at the turn of the century. Exceptional illustrative picture of a Cavalry soldier on a horse, blowing his bugle.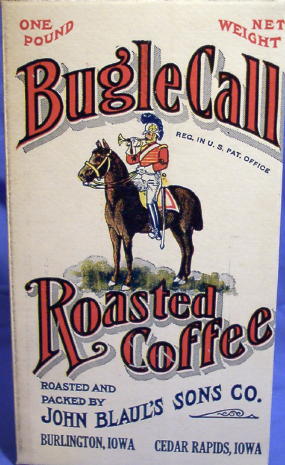 See Photo at Bottom of Page
The box has outstanding, Fancy turn-of-the-century graphics. This distinctive coffee box is from the 1910's coffee roaster and food processor and wholesaler, John Blaul's Sons Co. Burlington and Cedar Rapids, Iowa. They were an 1800's and early 1900's regional grocery distributor, who brought in groceries in large quantities on barges on the Mississippi River and repackaged goods in their own brand boxes and distributed them by rail to Ma & Pa grocers and General Stores and sent them Out West, for settlers and railroad towns in the expanding frontier.
They used the Mississippi River to import the coffee beans from South America to their warehouse, roasted them and ground them into ready to brew coffee. Some of the processed coffee was bagged and put directly into boxes like these and sent to general stores and grocers along the railroad towns. Some of the coffee beans were roasted and sent bulk in 50 pound gunny sacks along with a variety of boxes and packages for the local grocer to hand grind to order, fresh pre-roasted beans on his premises and bag it up and put into the boxes as purchased by the customer to keep it fresher.
No tears, No tatters, No folds, No fading. Minor age patina, otherwise Perfect Condition. We purchased the complete lot of a few dozen at an auction at the Blaul warehouse in Iowa several years ago before demolition. We pack it securely and mail it to you First Class U.S. Postal.
---
Illinois residents pay sales tax. We're happy to combine shipments where practical to save you $$$. We accept personal checks or money orders, Paypal, etc. To see our list of Unique and Unusual Items on Ebay, Click Here, Then Bookmark it! Check us occasionally. We list neat stuff like this all the time! Click here to E-Mail us Direct!
Always Reasonable Starting Bids . . . . NEVER A RESERVE!!!
~ We Ship Anywhere ~