Weight Fortune Telling Machine
1¢ Penny Weigh Scale
Card Set of 100 ~ 1920's
---
These are genuine original stock sets from the Watling Slot Machine and Scale Company, Chicago. They fit the penny scales that also vend a small fortune card. Some called Weight and Fate. They fit many different manufacturers machines. This type of fortune telling scale was common in the first half of the 20th century. They were in use from the early 1900's through the 1950's. Each card is 1 ¼ inches square, and contains a message with your "Fortune". It was automatically vended to you when you put a penny in the slot and weighed yourself.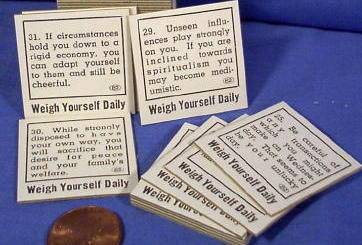 See Photo Below
Coin-op penny scales used to sit out in front of drug stores, train stations, soda fountains, theaters, etc. A set consists of 100 different cards. They stack up 3 ½ inches high. Interesting fortunes. If you have the scale, you need these cards! If you don't have the scale, these frame nicely as a set and look great on the wall. Accents any vintage coin-op collection. Unique item.
Original Watling Stock in Perfect Condition. You get all 100 cards. We pack them securely and mail it to you First Class U.S. Postal.