Magic Trick Apparatus
Dubious Domino
Changing Number of Spots
---
Here's one that fools the magicians and silences hecklers! The magician shows a large (8 ½ by 5 ½ inches) domino with one spot on it.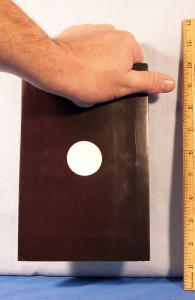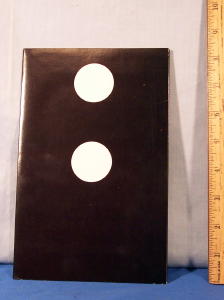 He then shows the other side has two spots on it.
then, to everyone's amazement he flips it back around and it has 3 spots on it.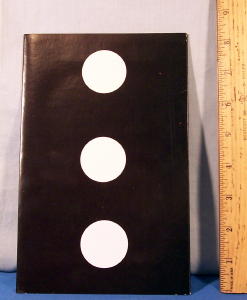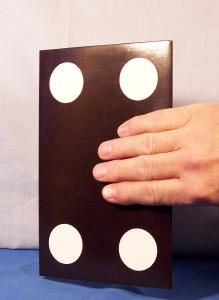 He turns it around again and it has 4 spots on it.
He flips it back around and now it has 5 spots on it.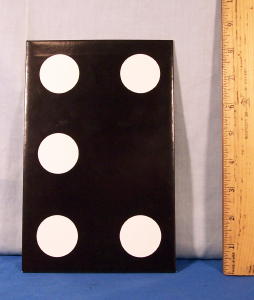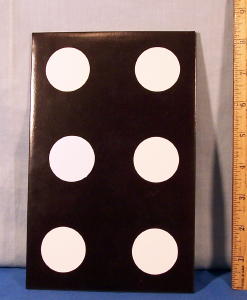 Once more he turns it around and it has 6 spots on it!
By now the audience is confused, so the magician goes back and forth from one spot to two spots several times and from 4 spots to 5 spots several times. Then back to 1 spot and 2 spots again. After doing this several cycles someone sooner or later notices the magician is covering up one of the spots with his hand on the 4 spot and the 1 spot (See Photos above) Each time he flips it around he makes a cumbersome move and it is obvious that his hand is merely covering one of the spots and that is what is has been going on all along.
When the domino has 2 spots showing a heckler will finally yell out, "Turn it around", and the magician appears at first to be embarrassed. So he spins the card keeping the face toward the audience and says, Turn it around like this, and they all yell "NO, Show the other side". So the magician slowly turns it to the other side, and there are 8 dots showing! (See Photo Below)
There is a short pause and then a round of applause! This trick embarrasses the hecklers and they are quiet the rest of the show. This is an exceptional effect for parlor or stage magic. Many magicians keep this one ready and not on their show list until the audience starts to become unruly. Then they pull this one out of the trunk. The audience is in the palm of your hand the rest of the show. Easy to master, takes moderate practice. Phenomenal impression. Made by Royal Magic so you know it's good!