Super 4 ~ Farm Tractor
Minneapolis Moline
Tin Advertising Thermometer
---
This working thermometer is 13 inches tall and 3 ½ inches wide. Has two holes, top and bottom for mounting. Features distinctive multi-colored detailed graphics of the Minneapolis Moline Super 4 Farm Tractor and Star Logo on a light blue, deep embossed, heavy gauge tin background with a sharp yellow border. Fantastic graphics of their Super 4 farm tractor.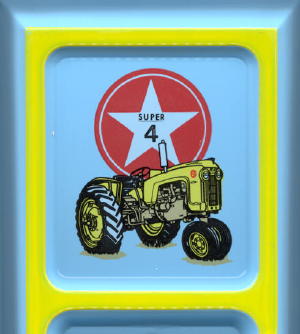 See Photo Below
Part of the limited edition sets made back in the 1980's, now hard to get. Has the Minneapolis Moline Logo at the bottom. Excellent piece for that tall skinny space on your wall. Perfect Condition! We pack it securely and mail it to you First Class U.S. Postal.
---
Notice:
This is a genuine vintage item that was made before product safety standards. It has a real glass tube thermometer element, metal edges, and is not intended for children. It does NOT use mercury.