For Smoking Monkey & Smoking Dog
Novelty Trick Cigarettes
Vintage Japan ~ 1950's and 60's Gag
---
This package of two dozen small cigarettes were a real classic 1950's and 1960's Japanese novelty. Sometimes they were sold with small Smoking Pets, like the "Smoking Monkey" or "Smoking Dog". Called Smokie, Cigarettes that Smoke Themselves. You can light one, and it puffs out smoke in puffs and sometimes smoke rings! They take a couple of minutes to burn down. They are hilarious. It is almost as if someone is puffing on it!
These were sold in the finest Trick, Gag and Novelty shops, and sometimes in merchandise vending machines. These haven't been manufactured since the mid 1960's because they obviously are unsafe for children, and didn't meet toy safety laws. We pack it securely and send it First Class U.S. Postal.
---
Notice :
This item is a genuine vintage toy from an era when there were no safety standards. It probably contains, or is, a choking hazard, and probably includes other features that are not suitable for children to play with. It is not being sold as a toy for a child to play with, but as a genuine vintage collectable item for adults.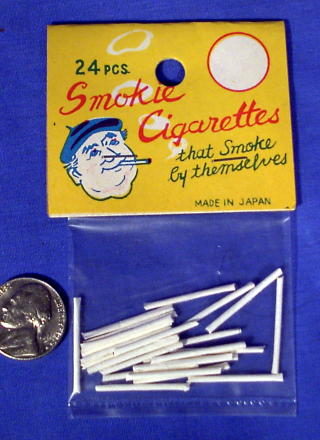 | | |
| --- | --- |
| Esnarf Item #3134 | Price . . . $9.65 |
Sale . . . . 3 packages for $23.85
We will Ship from 1 to 4 Packages for $2.85
5 to 10 Packages for $3.85
11 to 18 Packages for $4.85