Mini Spy Camera
1950's Working Toy Novelty
---
This Miniature Spy Camera was a unique import from Hong Kong during the 50's and 60's. Advertised as "hides in the palm of your hand" sometime called a vest pocket camera. This particular model was made in Hong Kong. All Metal Construction! It has an actual glass lens, view finder, shutter, advance film wind-up knob, and comes with a small film take up spool.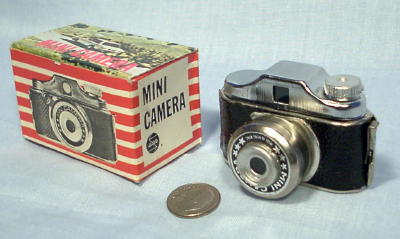 See Photo Below
It is black leatherette covered, and comes with the original box. It All Works! These were commonly advertised by novelty houses in ads in comic books, and other publications. I bought one when I was a kid in 1959. I had to send away to get special miniature film, and couldn't find anyone to develop it except the place I ordered the film. When I received the photos, they came out, but were extremely low quality. But it worked! This was the most sought after prize in the coin operated Claw or Digger Machines of the 50's. It has a back release latch to change the film. Here is a photo of the inside, unlatched and back open.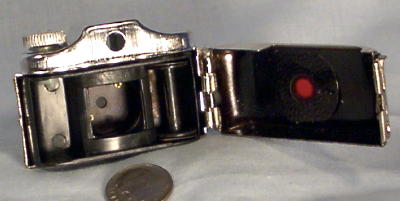 See Photo Below
The box is 2 ¼ inches wide, 1 ½ inches tall and 1 ¼ inches thick. The camera is slightly smaller. It's all metal construction was typical of post war (WW II) Hong Kong toy imports in the 1950's. Typical age patina, otherwise Perfect Original Condition. We pack it securely and send it First Class U.S. Postal.
---
Notice :
This item is a genuine vintage toy from an era when there were no safety standards. It probably contains, or is, a choking hazard, and probably includes other features that are not suitable for children to play with. It is not being sold as a toy for a child to play with, but as a genuine vintage collectable item for adults.