Borden Dairy Month
Elsie The Cow
Vintage Dairy Strip Sign
---
This exceptional, multi-color Elsie dairy cooler strip sign is 17 inches by 4 inches. Strip signs were usually slipped into small groves on the front lip of those "waist high" open top grocery store milk refrigerator coolers commonly used by grocers or dairy parlors from the 1950's through the 1970's. This particular sign has phenomenal multi-color graphics of Elsie!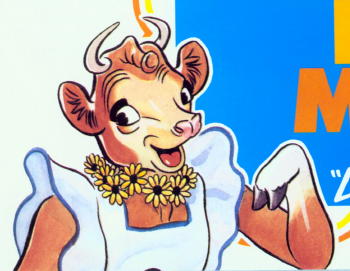 See Photo Below
This is the only Borden sign I have seen that has 2 pictures of Elsie. The photo above shows her at the left edge of the sign. She also is prominently displayed in the center with the traditional Elsie logo of her head sticking through daisy petals, wearing a daisy chain necklace! It says, Borden Dairy Month, "Look For My Specials", Elsie and has a spot on the right side of the sign for the grocer to write in an Elsie dairy special with a black crayon.
Original Borden Distributors stock. Heavy gloss paper. No folds, no tears, no nips, Perfect Condition. Classic Elsie collectable. We pack it securely and mail it to you First Class U.S. Postal.