5 Different Vintage Seed Boxes
1920's Seed Boxes
Set "B"~ All Different than Set "A"
---
5 different vintage seed boxes. Each box is 4 inches high, 3 inches wide and ¾ inch thick. Beautiful color pictures of vegetables - the same distinctive illustration on both sides. The graphics look realistically 3 dimensional! Includes growing instructions. From the Card Seed Co., Fredonia, N.Y. this lot of five different boxes includes: Golden Bantam Sweet Corn, Tennessee Green Pod Bush Beans, Gradus Peas, Country Gentleman Sweet Corn (white), and Kentucky Wonder Pole Beans.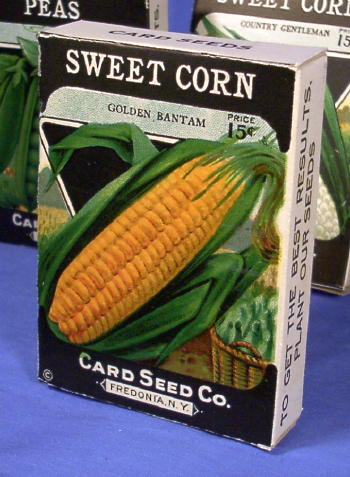 See Photo Below
They are all printed 15¢. All are still flat and unassembled. Vivid graphics. Phenomenal details and colors. Perfect Condition. Your bid takes all 5. We pack it securely and send it First Class U.S. Postal.