Vegetable Seed Boxes
1920's ~ 5 Different Boxes Set "A" ~ All different than set "B"
---
5 different boxes! Each box is 4 inches high, 3 inches wide and ¾ inch thick. Beautiful, colorful pictures of vegetables - the same distinctive illustrations on both sides. The graphics appear 3 dimensional! Includes growing instructions. From the Card Seed Co., Fredonia, N.Y. this lot of five different includes: Golden Wax Bush Beans, Early Red Valentine Bush Beans, Early Alaska Peas, Stowell's Evergreen Sweet Corn (white), and Telephone Peas.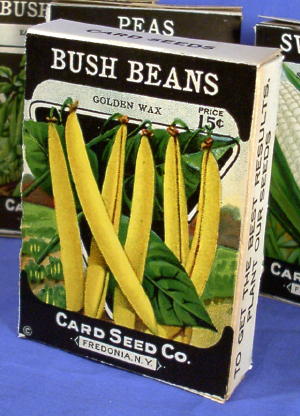 See Photo Below
They are all printed 15¢. All are still flat and unassembled. Vivid graphics! Phenomenal details and colors. Frame flat, or assemble them into boxes and shadow box or shelf display them! Perfect Condition. Your bid takes all 5 boxes. We pack them securely and mail it to you First Class U.S. Postal.