Coca-Cola ~ 1933
Bronze Safety Sidewalk Marker
---
This heavy bronze casting is 3 ¾ inches in diameter. It has a 2 inch long hook sprag on the back to set it into wet concrete when the sidewalk is poured. Coke supplied these to areas near schools and high pedestrian traffic for sidewalk safety markers in the 1930's. It would sit flush with the top of the sidewalk, and provide a permanent marker for separating pedestrians from motorized traffic, and at bus and streetcar stops. Schools would use them as cue up points to form a line for the bus.
Most of the surviving markers like these were removed during WWII for the metal. Any that made it into collections are usually substantially worn on the top. We found a small box of them along with some Dr. Pepper markers at the old foundry in Pontiac Michigan before it was demolished. The back (underside) says, Pat'd 4-11-33 National Safety Marker Co. Pontiac Mich. The top has the traditional Drink Coca-Cola Logo, and says, Safety First.
Seldom do we have the opportunity to offer our customers such a unique rare item. This is a genuine original, unused marker in Perfect Condition. It's heavy, 2 Lbs shipping weight. Buyer pays actual priority mailing costs depending on Zip code from 61063. Two are shown in the photo so you can see both sides.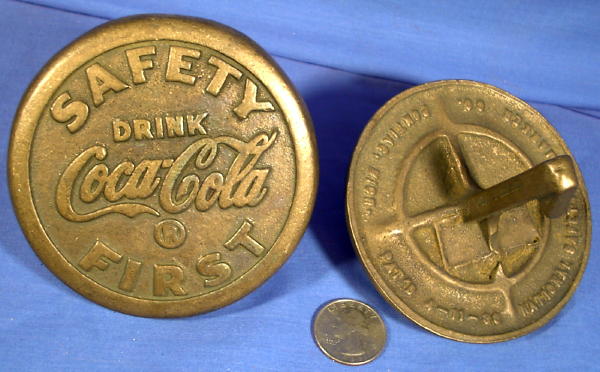 | | |
| --- | --- |
| Esnarf Item . #2286-B | Price . . $97.00 |
Sorry . . . . . Coke Markers Sold Out
See our other Sidewalk Markers
7up ~ Click Here
Grapette ~ Click Here
Pepsi ~ Click Here