1950's Balsa Wood Airplane Kit
De Havilland VENOM JET
British Radio Equipped Fighter
---
This kit is a Hobby-Time Balsa wood kit. Made by Western Coil & Electrical Co. Racine Wisconsin. The box is 12 inches by 3 inches by 1 ½ inches. Red, white and blue. Not dated, but it was after WW II and before zip codes.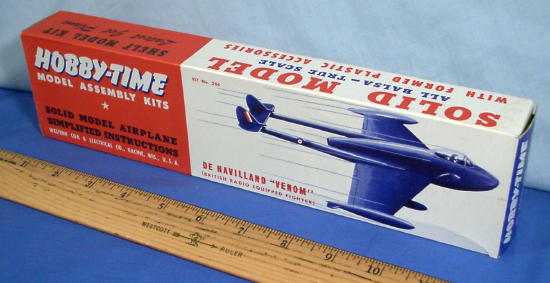 See Photo Below for All the Parts
The box says, Shelf Model Kit ~ Latest Jet Plane. The parts include a large, 4 way, pre-shaped balsa wood fuselage - a couple of large balsa pieces, 2 different thickness of balsa sheets with pre-scored marked with their names. A small Birch dowel, an unopened Cellophane bag with small parts like wheels, the stand, etc. a sheet of water transfer decals, a sheet of sandpaper and instructions. All pictured below. According to the back of the box parts list, It's all there! This came out of an old dime store warehouse. Perfect Condition. We pack it securely and send it First Class U.S. Postal.
---
Notice :
This item is a genuine vintage toy from an era when there were no safety standards. It probably contains, or is, a choking hazard, and probably includes other features that are not suitable for children to play with. It is not being sold as a toy for a child to play with, but as a genuine vintage collectable item for adults.