Collection of 10 Different
Vintage Soda Labels
Pop and Soft Drinks from the 1920's, 30's and 40's
---
This Set of 10 Vintage Labels represent a fantastic cross section of soft drinks! Three from Prohibition Era Beverage Distributors! Excellent, colorful graphics. Includes these Classic Prohibition Era Frameables.
Night Club Sparkling Beverages. John Lasser Co., Chicago. Says, "Good With or Without". 4 ¾ inches by 3 ½" inches This company made Chicago's "Sparkling Mixes" during Prohibition. Their distribution warehouses and Beverage Delivery trucks were scattered throughout Chicago, and called on all the speakeasy's. Note the 4 digit Phone number of Mohawk 1600.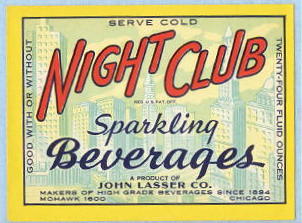 Also includes two Lasco Prohibition era labels from the East Coast, 2 flavors of Lasko Beverage, Orange Dry and Strawberry, both Sparkling Mixes for booze! Located in Bound Brook, N.J. Telephone 209, These labels are exquisite with Sharp Race Horse Graphics. and Edged in Gilded sparkling gold, with genuine gold flake gilded ink. 4 by 4 inch, die cut round corners.
This set of 10 also includes Frostie Root Beer, ©1947 The Frostie Company, Baltimore, MD. 4 by 3 inches Classic - Cupid Orange Soda Front label (4 by 3 ¼ inches) and neck label, Rochelle Club Beverage Corporation, Mount Vernon, New York. Nice front/neck set!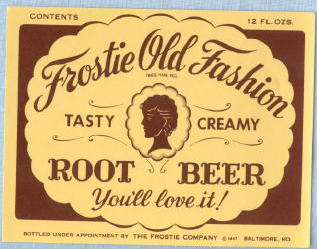 3 flavors of Snaider Syrup Corp. American Brand ~ 389 Bushwick Avenue, Brooklyn 6, N.Y. Exceptional USA Patriotic Red, White and Blue Star Spangled Graphics, 1 Gallon size, 5 ¼ inches by 4 inches - - Country Club Brand Sweet Cider, Rochelle Club Beverage. Beautiful Apple Graphics, ½ gallon size 4 by 4 ½ inches-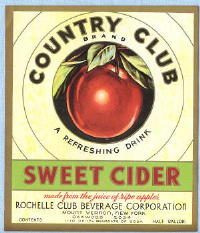 This collection has highly sought after brands. The Lasko and Night Club brands were Prohibition Era brands in NYC and Chicago, Purportedly to supply the large networks of Speakeasies. The Frostie Root Beer is a Soda Classic. No folds, no rips or tears, no fading. All 10 of these labels are genuine and in Original Perfect Condition. This collection is ideal for framing!
The photo below shows only 5 ~ To see them All, Click Here .
All 10 labels go for one money. Your get the whole collection of ten labels. We pack it securely and mail it to you First Class U.S. Postal.